About
Eliquo Hydrok Ltd became a member of the Eliquo Water Group in 2016 through the acquisition of Hydrok UK Ltd by ELIQUO WATER GROUP GmbH . As a result of this, the company has been able to add to the already existing extensive solution and product portfolio that includes solutions for wastewater management, wastewater treatment, clean water treatment and surface water management, by the introduction of proprietary biosolids and nutrient management technologies. The new products along with a strong technology portfolio that includes CSO screens, flow controls, Mecana tertiary filtration, high-efficiency aeration technology, IFAS Fixed Bed Media, MBR Bio Reactors. and UV disinfection to mention just a few. Eliquo Hydrok provide Water Engineering Solutions to all manner of complex and simple problems. The experienced in-house design teams are available to help identify and discuss the requirement and, should any of our standard products not be the perfect solution, our in-house manufacturing facility enables us to produce bespoke designs to suit a particular need. Eliquo Hydrok are also the exclusive UK distributor for a number of leading European specialist manufacturers.
Contact
Mr David Armstrong
Warren RoadIndian Queens Ind EstIndian Queens

St Columb
Cornwall
TR9 6TL
www.eliquohydrok.co.uk
Eliquo Hydrok Screening, Tank and Sewer Cleansing
Eliquo Hydrok have invested in the development of well proven wedge wire screening technology and have supported the UK water companies in the design and installations of reliable, cost effective and low maintenance screening solutions. In addition during times of rainfall the sewers within the network systems become surcharged with combined sewage and storm water. In order to protect the Wastewater Treatment Works from shock loads and also reduce the discharge frequencies over the CSOs, engineers are required to design and install storm water holding tanks and tank sewer pipes.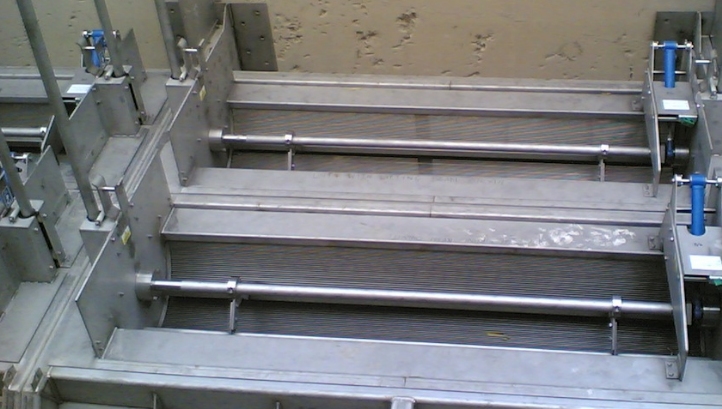 Tailored screening solutions to meet the requirements
The treatment of water discharging from sewers into our rivers has been and continues to be a large investment for all UK Water Companies. AMPs 2 & 3 saw legislation applied to Combined Sewer Overflow (CSO) consent discharges and the introduction of CSO screening technology, further consents into AMPs 4 & 5 include the protection of our shell fisheries.  This section of our portfolio describes the two Eliquo Hydrok screens, MecMex and Peak Screen along with the non-powered water driven HydroClean Brush screen, as well other screening products in the portfolio.
CSO screens protect receiving waters from sewer discharges; however, further pollutants may be discharged from surface water systems carrying debris from roads and pavements along with foul water from incorrectly connected house waste systems. The HydroSwitch and HydroMESI are systems providing a solution to this additional problem facing engineers in the protection of all receiving waters.
Our Range of Products
Effective non-powered and powered flushing systems
Storage systems hold the storm flows and act as "buffers" within the networks releasing the water held back onto treatment once the storm event has past. During the times of storage, the sediments held in suspension within the stored water will settle and form a layer of sludge on the tank floor.

The ELIQUO HYDROK CWF Storm Flush and the HydroSelf tank cleansing system for rectangular and round tanks provide a proven flushing system for the removal of this sedimentation. Further systems such as the HydroFlush, HydroFlush Mini and HydroGuard offer solutions for the flushing of tank sewers and low gradient sewer pipes which may suffer from the same sedimentation problems.
Our Range of Products