About
Eliquo Hydrok Ltd has extensive experience and track record of working with all the major Water Utility companies throughout the UK and Eire. Head office and main manufacturing base is, located in Cornwall, with additional satellite 'service and installation' depots throughout the country in the areas where we operate. Quality standards in all areas of manufacturing and people are a paramount factor in the delivery of the Eliquo Hydrok service and there is great pride in the approach to delivering environmentally considerate, cost effective and practical solutions with a progressive workforce, both within the factory, the design office and throughout the company. Eliquo Hydrok provide Water Engineering Solutions to all manner of complex and simple problems. The experienced in-house design teams are available to help identify and discuss the requirement and, should any of our standard products not be the perfect solution, our in-house manufacturing facility enables us to produce bespoke designs to suit a particular need. The company have an established ethos of continuous personal development (CPD) both externally, through client workshops, and internally through graduate and apprenticeship programmes. Eliquo Hydrok Ltd became a member of the Eliquo Water Group in 2016 through the acquisition of Hydrok UK Ltd by ELIQUO WATER GROUP GmbH . As a result of this, the new company has been able to add to the already existing extensive solution and product portfolio by the intro
Contact
Mr David Armstrong
Warren Road Indian Queens Ind Est Indian Queens

St Columb
Cornwall
TR9 6TL
www.eliquohydrok.co.uk
Eliquo Hydrok Flow Control systems
The control and storage of the water flowing through the foul and surface water networks is becoming an increasingly important challenge for engineers within the water UK companies. By utilising good engineering practice and proven control solutions these challenges may be overcome and show efficiencies of cost and performance.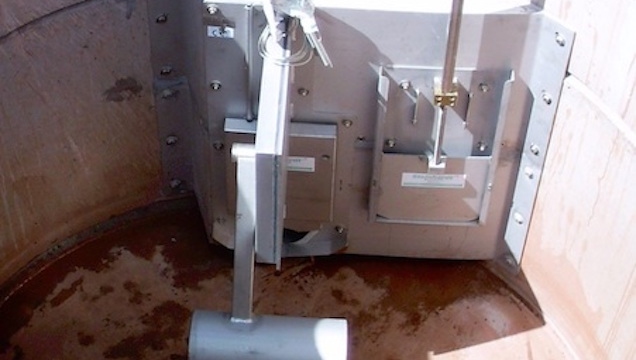 The HydroSlide and ElectroSlide family of flow control units are designed to accurately and reliably control the pass forward flows throughout an impounding upstream head range enabling compliance with discharge rates and possible reduction of storage volumes. Underutilised storage within the existing network asset can also be activated through the use of the HydroStyx, and HydroBend solutions both particularly developed to increase storage whilst reducing the need for investment into new build storage chambers and tank sewers.
 Our Range of Products
HydroSlide
HydroSlide Combi
ElectroSlide
ActuSlide
HydroGuard
HydroBend
HydroStyx
HydroSlide® Flow Control Regulators
The HydroSlide flow regulator provides a proven cost effective technique for regulating flows from as little as 2 litres/s. The float activated mechanism of the HydroSlide is designed to maintain a constant discharge without the use of external energy sources and reduce the cost of storm water storage.
The family of HydroSlide flow regulators accurately control discharge flows to +/- 5% throughout the impounding head range enabling, optimum discharge of the storage system. This reduces the volume of storage over most other types of control. It also reduces the footprint of the required storage to a minimum and saving on land and construction costs. HydroSlides can be configured to provide varying 'stepped' flow rates to cater for discharge from increasing storm return flow outputs, further optimising tank design.
ElectroSlide® Level control discharge regulator for 5-3,500 L/s
The ElectroSlide flow control device is designed to accurately regulate the flow from a chamber into a receiving channel/water system. Conventional electric flow regulator systems require expensive flow measuring with large shaft constructions and would be controlling a standard penstock opening.
The ElectroSlide orifice incorporates the same internationally patented technology used for the HydroSlide flow regulator. This ensures a discharge accuracy of better than ±5% throughout the impounding head range.
 In order to eliminate the need for operational and maintenance teams to have to enter hazardous underground areas the ElectroSlide can be combined with the Eliquo Hydrok ActuSlide system for above ground engineering work.
HydroBend. Variable Weir Systems
Overflow weirs within storage tanks and sewer networks are provided to divert excess rainfall into the surrounding water course. In the event of high rainfall, the weir level determines the maximum storage within the sewerage system. HydroBend provides a controlled method for maintaining the maximum storage volume within the network during storm conditions.