T-T PUMPS Limited
About
T-T is your one-stop shop for everything needed to master water management challenges. We specialise in not only off-the-shelf pumps, valves, and controls but also bespoke pumping solutions, specialist valves that are tailored to meet your exact requirements and custom-made control panels for your specific application. With a dedicated technical team, constant research of water technology and the latest developments in the industry catered to, we are the company you can rely on the get the job done. We have thousands of products in our range, which gives us the capacity to meet any challenge in a wide range of industries. So whether you need A water management system for a housing estate, or a sophisticated pumping station for a water treatment plant, trust T-T to deliver a cost-effective solution that is built to last. Trading since 1959, T-T have the experience to design bespoke pump systems, develop waterworks valves and manufacture control systems for a range of industries. We are expertly qualified to match the right products to the right applications.
Contact
Marketing Rebecca Jones
Onneley Works
Newcastle Road
Woore
Cheshire
CW3 9RU
www.ttpumps.com
Trencher - 2" Drainage Pump
The Trencher Range of submersible 2" drainage pumps are compact, light and powerful and are suitable for ground water and water containing sand and silt. Used for small water features, cellars and basements and many further applications. 0.4-1.5 kW, 21m maximum head and 670l/min maximum capacity.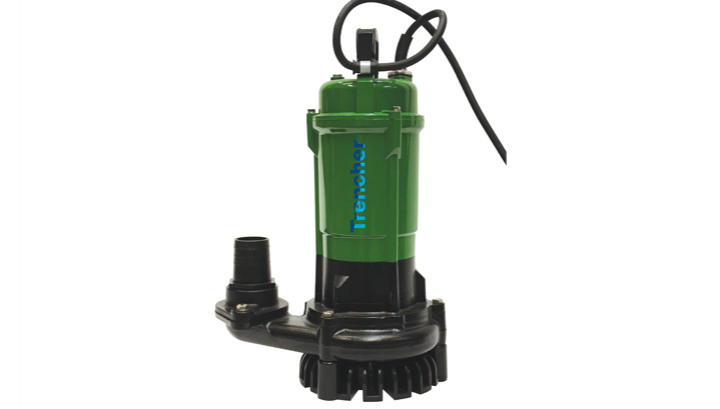 A range of submersible 2" drainage pumps that are compact, light and powerful. They are suitable for ground water and water containing sand and silt - maximum solids handling of 7mm.
Applications
• Small water features
• Cellars and basements
• Nuisance water
• Civil construction
• Quarries and Mining
• Hire fleets
• Emergencies
• De-watering
Features
• Cast iron casing
• High abrasive resistance resin Vortex impeller
• Double mechanical seal
• Designed agitator
• Auto thermal protector - non-air locking
• 0.4 - 1.5 kW output
• 50mm discharge
• Interchangeable major components between Trencher, Liberator, and PuddlePal, keeping costs down for the end user (based on motor size). 
* Automatic version with F Type or Z Type float switches.
NOTE: Trencher 750 and 1500 models come with a 2" discharge as standard. 3" discharge available on request.
The Trencher 1500 110V must be operated in conjunction with a suitably rated transformer. Please contact T-T for further information.
T-T offer a wide range of hose & fittings.
For the correct pump selection please speak to our Sales Team