T-T PUMPS Limited
About
T-T is your one-stop shop for everything needed to master water management challenges. We specialise in not only off-the-shelf pumps, valves, and controls but also bespoke pumping solutions, specialist valves that are tailored to meet your exact requirements and custom-made control panels for your specific application. With a dedicated technical team, constant research of water technology and the latest developments in the industry catered to, we are the company you can rely on the get the job done. We have thousands of products in our range, which gives us the capacity to meet any challenge in a wide range of industries. So whether you need A water management system for a housing estate, or a sophisticated pumping station for a water treatment plant, trust T-T to deliver a cost-effective solution that is built to last. Trading since 1959, T-T have the experience to design bespoke pump systems, develop waterworks valves and manufacture control systems for a range of industries. We are expertly qualified to match the right products to the right applications.
Contact
Marketing Rebecca Jones
Onneley Works
Newcastle Road
Woore
Cheshire
CW3 9RU
www.ttpumps.com
The Pluto Pumping Station
The Pluto Package Pumping Station is the most effective means for collecting and removing excess water collected from cavity drainage systems.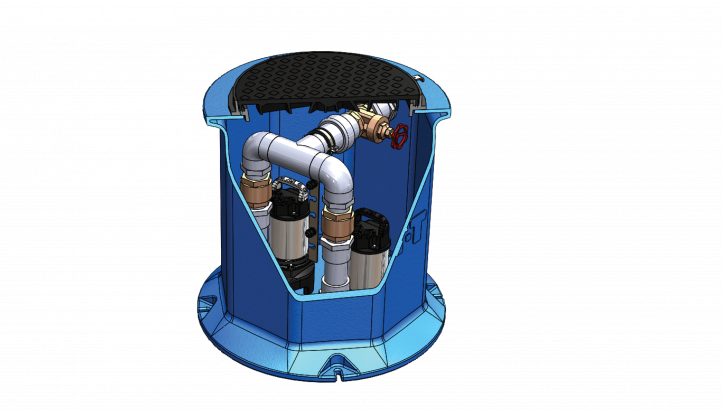 T-T have evolved their range of package pumping stations and introduced the new and improved Pluto to its long-established planet range.
The Pluto pumping station is the most effective means for collecting and removing excess water collected from a cavity drainage system. The fully automatic unit is designed and built for reliability, long life and employs a high-performance pump range that can be selected to meet your specific application. This range can also be used for small, domestic and foul wastewater removal in an annex or extension. 
Features:


Available in single or dual pump options, in either 230V or 400V
Single option supplied with single automatic submersible pump (230V) with internal pipework, non-return valve, high-level alarm, and float switch
The dual option is supplied with dual submersible pumps in 230V or 400V with dual internal pipework, non-return valves and isolation gate valve. This is operated by a mains powered dual control panel and level switches
High-level alarm unit featuring light and audible alarm with a mute button
Strong polyethylene chamber
2" BSP discharge connection
Pedestrian rated access cover
Inlets to accommodate standard drainage connections and cable ducts.
Benefits:


Vertical flat sides to accommodate a variety of basement and drainage layouts, making sealing inlet pipes and cable ducts simple and quick using supplied gaskets. The large radius transition between these flat sides gives the tank exceptional strength and durability (supplied with one of inlet socket 110mm and one of cable duct 50mm).
Seven 'usable' flat faces which provide greater flexibility for installing inlet pipes and cable ducts, versatile for each situation. The new design makes installation simple, something which can be tricky in the confined spaces that the pumping station is designed for.
Single access cover and frame have been introduced to remove the risk of the previous square style access cover, dropping into the chamber during installation or maintenance.
Quick-release union to aid removal of pipework and the pump making maintenance quicker and easier.
Gate valve to control the return flow where the pump and/or pipework require removal for maintenance purposes and a stainless steel float bracket has been added to support removal.
Float switch bracket kit to eliminate the requirement to remove pipework and therefore providing anti-corrosion protection.