T-T PUMPS Limited
About
T-T is your one-stop shop for everything needed to master water management challenges. We specialise in not only off-the-shelf pumps, valves, and controls but also bespoke pumping solutions, specialist valves that are tailored to meet your exact requirements and custom-made control panels for your specific application. With a dedicated technical team, constant research of water technology and the latest developments in the industry catered to, we are the company you can rely on the get the job done. We have thousands of products in our range, which gives us the capacity to meet any challenge in a wide range of industries. So whether you need A water management system for a housing estate, or a sophisticated pumping station for a water treatment plant, trust T-T to deliver a cost-effective solution that is built to last. Trading since 1959, T-T have the experience to design bespoke pump systems, develop waterworks valves and manufacture control systems for a range of industries. We are expertly qualified to match the right products to the right applications.
Contact
Marketing Rebecca Jones
Onneley Works
Newcastle Road
Woore
Cheshire
CW3 9RU
www.ttpumps.com
Doncaster Inland Port
The IPort located in Doncaster is a 337 acre Greenfield development site. The site features up to 6 million sq ft of warehouse space and 3 million sq ft of detailed planning consent. The site also includes a 35 acre dedicated strategic rail freight terminal.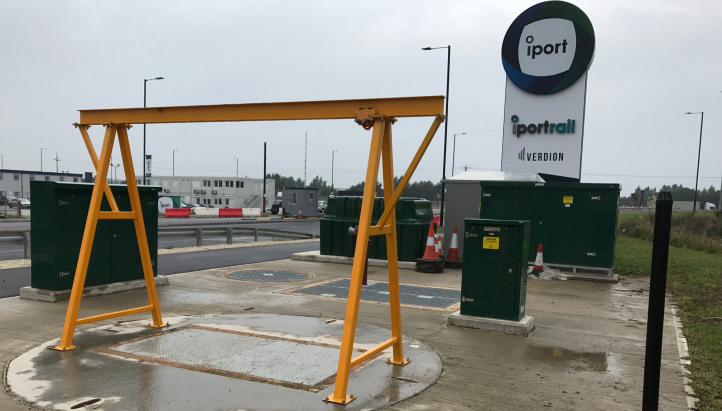 Once the permission for development has been granted, T-T received a call from a Senior Engineer with an urgent enquiry for a foul pumping station. Following this T-T's area manager followed up the call to clarify requirements; they needed a foul pumping station to service Doncaster Inland Port, a commercial site. The pumping station also needed to be compliant to Severn Trent sewers for adoption 7th Edition.
Various design changes and developments followed over the next few months, T-T kept informed of the design in order to update the pump specification and quotation. Once the main contractor had been chosen by the developer, T-T were confirmed as the pump supplier. T-T then provided detailed pump design and surge analysis, this was ordered by BWB. Following confirmation of this mechanical and electrical installation and commissioning was ordered by the main contractor, Buckingham Group. Additionally to this, another pumping station was ordered to pump to the original to ensure correct drainage is taking place on the site.
Doncaster Inland Port, Sean Green, Senior Design Engineer at BWB Consulting Ltd commented, "as part of our drainage design we required a S104 FW pumping station. We contacted T-T Pumps who were more than helpful from the start. The sales team particularly was a great asset to the whole process and their skills and advice were extremely valued. I would highly recommend T-T Pumps for future projects given the level of service received during our time working together."
T-T supplied pumps complete with 22kW motors with a pump duty of 44.8l/sec at 25m total head, control panel housed in a GRP kiosk, valves, and all necessary pipework. Additionally to this T-T fitted their Text-Tel Junior telemetry system, the telemetry system allows IPort to receive a report of any failures or condition changes to the equipment remotely, with the ability to reset remotely via SMS text message.
T-T handled the design, supply, install and commissioning of this project from start to finish. For more information on the range of package pumping stations, or to speak to a member of the team about your specific site requirements, visit https://www.edie.net/products/redirect.asp?content=product_listing&cid=64171&url=https://www.ttpumps.com/pumping-stations or contact us on +44(0)1630 647200.