About
Watson-Marlow Fluid Technology Group (WMFTG) is the world leader in niche peristaltic pump manufacture and associated fluid path technologies for the food, pharmaceutical, chemical and environmental industries. Comprising ten established brands, each with their own area of expertise, but together offering our customers unrivalled solutions for their pumping and fluid transfer applications.
Contact
Ms Laura Ground
Bickland Water Road

Falmouth
Cornwall
TR11 4RU
www.wmftg.co.uk
Qdos pumps used extensively for polymer dosing in wastewater treatment
Chemical Support Systems Ltd (CSS), which has designed, manufactured, installed and commissioned over 2,000 chemical dosing systems worldwide, opts for Qdos pumps from Watson-Marlow Fluid Technology Group (WMFTG) in polymer dosing in wastewater treatment applications. Moving forward, this usage looks likely to increase as more effort is made to reduce the presence of phosphorus wastewater, which remains the most common cause of Water Framework Directive (WFD) quality failure in the UK. CSS has been established for 30 years as a Cheshire, UK-based electrical and mechanical engineering company. Although the company undertakes work in most areas of engineering, its specialist knowledge and expertise is as a major supplier of chemical dosing equipment across a variety of industries, including water treatment.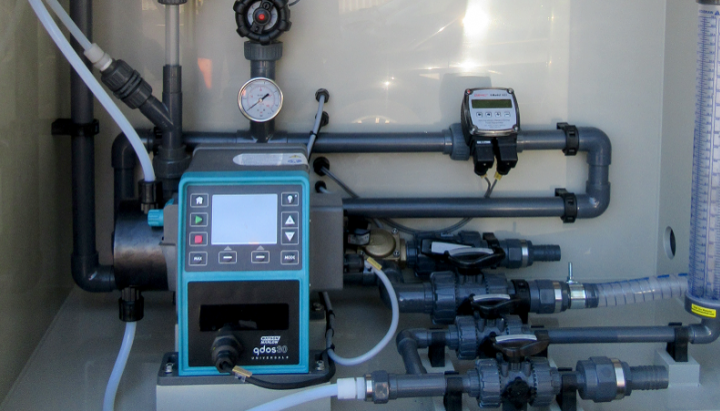 The phosphorus issue
The UK water industry has a major issue: over half of its river water bodies and three quarters of its lakes exceed the phosphorus discharge consent level of 0.1 mgP/l for "good environmental status". To help combat phosphorus levels, a chemical coagulant or polymer is typically dosed into wastewater. The amount of dosing depends on the amount of phosphorus present, with potential fines for those found guilty of discharges outside of limits.
In the USA and Canada, for example, fines can be up to $500,000. With this thought in mind, paying a little more for a pump that can provide the necessary accuracy and confidence to do the job correctly, seems small hardship.
Ian Bishop, one of the three co-owners at CSS, says: "Companies with wastewater streams are trying to achieve increasingly stringent discharge consent limits, but also want to reduce operational wastewater treatment costs. Our chemical dosing systems, many of which rely on Qdos pumps, help companies achieve both these things."
Qdos pumps cut chemical costs through higher accuracy metering. In addition, these innovative pumps offer linear and repeatable low-pulse flow rates from 0.1 to 2,000 ml/min (up to 7 bar) under varying process conditions. Further benefits include simple drop-in installation that reduces the need for ancillary equipment, while maintenance is limited to single, no-tools component replacement.