H+E UK Ltd
About
H+E designs & builds water and waste water treatment plants for industrial applications and complete waste-to-energy plants; core elements being designed and sourced within the Company.Water TreatmentUsing all available technologies, we supply pure water treatment systems for Power Generation, Electronics / Photovoltaic, Pharmaceutical, Petrochemical and other industrial applications.Wastewater TreatmentWe supply plants for most industries, and therefore have a very wide range of process technologies available. Since H+E has been in the business for more than 80 years, this is perhaps not surprising! A significant number of these treatment processes have been developed by us in response to the specific needs of our client. So, whether you discharge inorganic or organic wastewater, we are able to treat it reliably and have a very long Reference List of satisfied clients.ProductsWe also have a range of individual products that are available to you. One of these is the TOVEKO continuous gravity sand filter. This has a number of very significant operational advantages over other filter types.Whatever your specific needs are, we would be very happy to discuss them with you and to find an efficient and cost-effective solution. Please do contact us!Our wastewater recycling systems make the user less dependant on mains water supplies, & also reduce overall operating costs significantly.
Contact
Mr Mike Hutt
Field Place Estate
Broadbridge Heath
Horsham
West Sussex
RH12 3PB
www.he-water.co.uk
IBC Chemical Dosing Systems
When your rate of chemical consumption is too high to use 25 litre drums but too small to consider bulk tanker deliveries, purchasing chemicals in 1m3 Intermediate Bulk Containers (IBCs) can be a good and economic choice. H+E's IBC Chemical Dosing Systems are pre-assembled prior to delivery and connect directly to the liquid outlet of the delivered IBCs.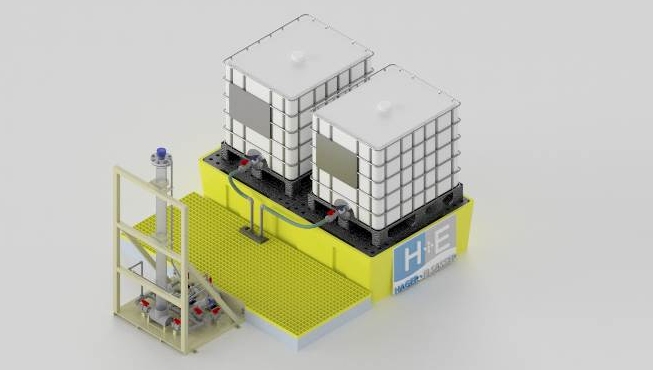 Chemical dosing direct from IBCs made easy and safe.
Minimise chemical handling and associated risks
Avoid chemical wastage & thereby minimise cost
Ensure constant chemical availability
IBC Chemical Dosing Systems: The basic facts
Manufactured in plastics and therefore highly resistant to chemical corrosion
Suitable for use with a wide range of concentrated chemicals.
IBCs sit on bunds, minimising any risk of spillage
Provide a constant, pressurised chemical supply to each point of use.
Level controls generate the following signals:
Alarm generation when duty IBC is completely empty
Optional automatic IBC changeover
Supply pump(s) automatically stop if no chemical is available (standby IBC is not connected)
System advantages:
Automated IBC changeover ensures 24/7 chemical supply
Ensures total use of chemical in each IBC, avoiding wastage
Minimises handling and consequent chemical risk
IBC Empty alarm advises when a replacement IBC is required
Pre-assembled and tested before delivery
Quick and easy to install
A wide range of chemicals supplied in IBCs:
Acids and alkalis
Boiler Treatmemnt chemicals
Oxidising agents including Sodium Hypochlorite
Reducing agents including Sodium Bisulphite
Coagulants
Speciality chemicals such as TMT15
Clean in Place chemicals
H+E Scope of Supply
We are happy to supply just the IBC Chemical Dosing Systems if that is what you need, but we can also supply a complete system, or upgrade an existing one if you wish. We have very long experience in the design, supply and installation of water and wastewater treatment systems, and the whole range of chemical storage and dosing systems Whatever you need, please talk to us!
On-going support
H+E has more than 100 years of overall experience in the water & wastewater treatment business and, during that time, we have made the supply of on-going support for our clients a central part of our offering. Whatever you need, to ensure that your plant continues to operate and benefit your business, our team of engineers is always available to provide support, troubleshooting and the occasional spare part throughout its life. We can also provide maintenance and service packages for your complete water or wastewater treatment plant if you wish, and on a basis that suits you.