H+E UK Ltd
About
H+E designs & builds water and waste water treatment plants for industrial applications and complete waste-to-energy plants; core elements being designed and sourced within the Company.Water TreatmentUsing all available technologies, we supply pure water treatment systems for Power Generation, Electronics / Photovoltaic, Pharmaceutical, Petrochemical and other industrial applications.Wastewater TreatmentWe supply plants for most industries, and therefore have a very wide range of process technologies available. Since H+E has been in the business for more than 80 years, this is perhaps not surprising! A significant number of these treatment processes have been developed by us in response to the specific needs of our client. So, whether you discharge inorganic or organic wastewater, we are able to treat it reliably and have a very long Reference List of satisfied clients.ProductsWe also have a range of individual products that are available to you. One of these is the TOVEKO continuous gravity sand filter. This has a number of very significant operational advantages over other filter types.Whatever your specific needs are, we would be very happy to discuss them with you and to find an efficient and cost-effective solution. Please do contact us!Our wastewater recycling systems make the user less dependant on mains water supplies, & also reduce overall operating costs significantly.
Contact
Mr Mike Hutt
Field Place Estate
Broadbridge Heath
Horsham
West Sussex
RH12 3PB
www.he-water.co.uk
SH+E UK, design and build contractor in the field of anaerobic digestion, is exhibiting at the UK AD & Biogas 2013 show at the NEC.
3 - 4 July NEC Birmingham Stand E95
SH+E UK, a long-established provider of water and wastewater treatment solutions for industrial and municipal applications and complete waste-to-energy plants, will be presenting our world-class capabilities in the field of AD at the upcoming event, the UK AD and Biogas 2013 show.
SH+E UK is a design and build AD provider with a difference. We are part of the SH+E Group, a leading international supplier in the fields of wastewater, waste, and energy recovery. This guarantees that our expertise goes beyond just AD; we use our extensive multidisciplinary competencies to offer optimised solutions.

All core elements of our plants are designed and sourced within the Group, allowing us to control the quality, and ensure the plant our customer receives is fully integrated. This approach means that all the experience we gain stays within the Group, so we can constantly improve technologies and processes, ensuring that our offerings remain world-class, both for the environment and our clients.

This year, visitors to the SH+E Group stand will, for the first time, have an opportunity to meet our leading specialists in the field of anaerobic effluent treatment, anaerobic digestion and cogeneration. Our experts, Dr. Elke Sellering and Dr. Niels Holm, will also take part in two seminar sessions on "Innovation in Process Design" and "Optimising Digester Performance".

"We are looking forward to discussing with visitors how we have helped many customers to obtain optimal benefits from their waste," comments Mike Hutt, Managing Director.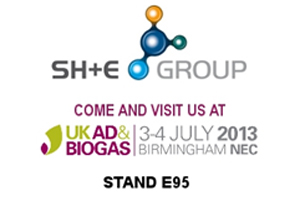 For further information please email SH+E UK Ltd