About
Huber Technology offers solutions for both Industrial and Municipal applications. Best known for the robust ROTAMAT(R) sewage and sludge screens, with over 1500 operating in the UK and Ireland, Huber Technology also offers a broad range of other treatment equipment. This includes machines for achieving Screenings Removal, Washing, Conveying and Compacting; Sludge Screening, Thickening and Dewatering; Storm Screening; Total Preliminary Treatment; Grit Removal and Washing; Grease and solids Removal, Dissolved Air Flotation (DAF) and Disc and Sand Filtration Tertiary Treatment
Contact
Mr Nick Hunt
Units C & D Brunel Park
Bumpers Farm Industrial Estate
Chippenham
Wiltshire
SN14 6NQ
www.huber.co.uk
Blackburn Meadows WwTW - 2 Years Later
Large complex engineering projects typically evolve over a number of years, during which time information is gathered and ideas are developed and checked to enable all areas of risk to be assessed.
In late 2009 Huber Technology UK, a major framework supplier of storm screens to Yorkshire Water, was approached together with an alternative supplier to look at potential options for the largest storm screen overflow application in the UK at Blackburn Meadows WwTW. Over the following 12 months Huber Technology worked in conjunction with Yorkshire Water and one of its framework contractors ETM, (a joint venture between Earthtech and Morrison Utilities, part of the Galliford Try Group) to design a viable and cost effective solution for this large and complicated project.

Normally storm screens are required to screen the flow whilst depositing the screenings back into the flow to allow for treatment at the main works. However at this site it was an end of line application as the screenings had to be removed at this point since there was no other avenue for them to be transported and treated. With this large and non-standard application a wide range of design options were explored by the group, to not only allow the normal storm screening to take place, but also for the effective removal of screenings from the flow.

Through strong collaboration with ETM and Yorkshire Water a solution was agreed and it was then Huber Technology's task to fully develop a solution to meet the demanding requirements of this site. This included a novel and unique solution (at this time) to direct screenings into dewatering conveyors which would then feed into the screenings handling units. All equipment contained within this solution was of Huber design and manufacture.

Once the final design had been selected and agreed ETM then employed a hydraulic modelling consultant to construct a full scale model of the installation. This allowed them to not only evaluate the settlement characteristics, flow patterns and likely performance of the plant at different flow rates but to also simulate conditions when the River Don itself is in flood at the same time as a storm. This innovative thinking helped provide confidence in the proposed solution and as such saved time and money during the design and construction phase.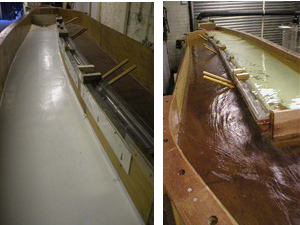 The two pictures above show the model from either end, one without flow and one with flow sediment flow markers present.

In December 2010 Huber was awarded the contract to supply storm screens and screenings handling units and the equipment supplied comprised of the following Huber products;


5 off RoK1/1000/6mm Storm Screens, each 10,625mm long
5 off Ro8/355mm Screw Conveyors, each 11,500mm long
3 off WAP-L BG12 Screenings Handling units
1 off sealing plate for future unit
The 5 screens in total can handle up to 33,000 l/sec, and provision has been made to add a sixth storm screen and conveyor at a later date to screen even higher flows up to 40,000 l/sec should this be required in the future. This is equivalent to the emptying of an Olympic sized swimming pool every 90 seconds.

Teamwork within the group on this project right from the initial enquiry ensured that the best technical solution was chosen whilst also providing the customer with confidence to proceed.

Installation Images show the large scale of this project and size of units involved.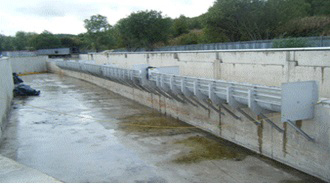 Huber's Contracts Engineer Ben Shore explained; "The Blackburn Meadows project was challenging right from the start but very interesting and rewarding.  The advantage of being involved right from the outset of the project allowed us to not only give a very cost effective solution to the client but to also further enhance the already very strong relationship with the end user and contractor".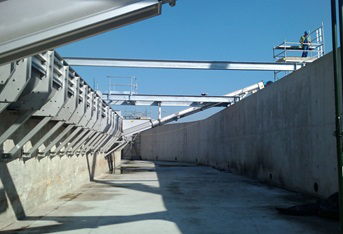 This was an excellent example of the collaborative approach that is required to deliver a solution of this magnitude. This project has proved itself to be robust and reliable and we at Huber are very proud of this successful project" commented Dale Foster Huber's Area Sales Manager

For a period of a year after the plant was commissioned, litter surveys were undertaken with excellent results. In the 2 years since installation a large number of storm events have occurred and the equipment has performed as designed and ensured that flooding and subsequent contamination of the site, seen previously, has now been eliminated. Sewage related debris is now being effectively screened out and removed from the flow before discharge to the river and is therefore improving the River Don's conditions downstream of the works. This is of particular benefit to the local wildlife with the subsequent improvement in the quality of water discharging into the river during a storm event.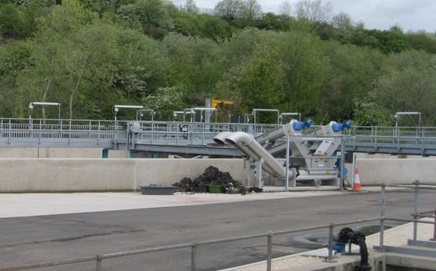 WAP-L BG12 units (above Photo)

Ed Brush, project manager from Yorkshire Water Services explained; "From the start of the project to its final completion and successful operation, Huber Technology formed an integral part of the 6 off storm channel solution design. Huber was challenged to find an effective and innovative solution to screen storm water litter and significantly reduce pollution from entering the River Don. The storm water channel scheme is the largest of its kind in the country. It was delivered on time and within budget. It has already shown to exceed the original design criteria of processing 30,000 l/sec, by successfully handing a number of significant storms and preventing storm water pollution entering the River Don."

The scheme was runner up in the 2013 RICS Pro Yorkshire Awards in the Infrastructure category. The Awards showcase the most inspirational regional initiatives and developments in land, property, construction and the environment.

For Huber, it brings the total number of storm screens of this type, supplied in the UK, to over 1200.

For more information please visit www.huber.co.uk
or Rachael Harvey rh@huber.co.uk

For further information please email Huber Technology