Pollution & Process Monitoring Ltd
About
Manufacture of on-line analysers suitable for measurement of water and waste-water. We manufacture analysers reporting parameters which include TOC (Total Organic Carbon), Ammonia (ammoniacal-nitrogen) and oil film detection. UK representative for WTW, DKK & HF Scientific, 3S, Realtech and Chemitec. The instrumentation covers single and multiple parameter measurement, on-line and field portable meters. Parameters include turbidity, MLSS, ammonium, phosphate, nitrate, pH, D0, conductivity, Oil on water, oil in water, UV absorption and UVT (UV transmission). We also specialise in providing turn key monitoring solutions for water and waste water analysis. These systems include back-panels, secondary enclosures and walk-in analyser kiosks (pre-installation of instrumentation, sample preparation, frost protection, lighting, electrical and sample distribution). Installations are supported by our team of service engineers providing technical support, routine and emergency call-out cover and chemical supply. - Waste water monitoring - Water measurement - Analytical measurement - Water quality instrumentation - TOC analyser - COD analysis - BOD analysis - Ammonia analyser - Nitrate analyser - Phosphate analyser - pH meter - Turbidity meter - DO meter - Conductivity meter - ORP meter - UV254nm measurement - Oil detection - Bes
Contact
Mr Steven Tuck
Bourne Enterprise Centre, Borough Green,

Sevenoaks
Kent
TN15 8DG
www.pollution-ppm.co.uk
Realtech Portable UVT monitor using UV254nm absorption
The measurement of UV transmission is widely deployed to verify the intensity of UV sterilisation processes depending upon the amount of dissolved chemical matter and the concentration of suspended solids.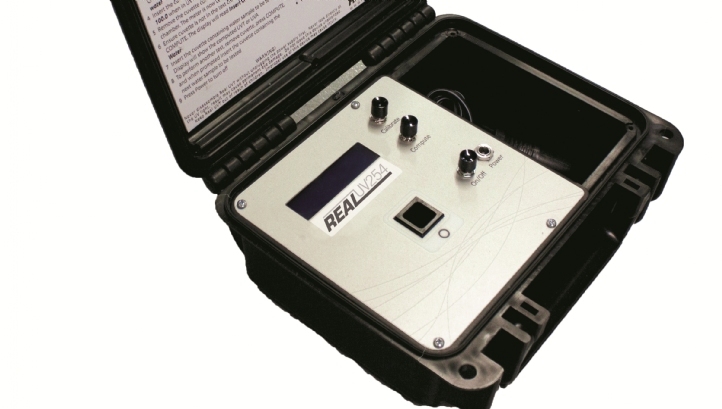 Realtech instruments are installed to control the UV sterilisation process to ensure the correct intensity of UV sterilisation is achieved according to strict regulations.
The on-line instrumentation must be performance checked and one approach is to regularly take spot samples for analysis on a calibrated portable device, so comparative data may be used to audit the control instrument.
The P200 portable UVT instrument is a compact, simple device allowing for discrete measurement of UV transmission at a frequency of 254nm.
The % transmission is affected by the amount of chemical contamination in particular organic species and the amount of suspended solids within the sample.
A discrete measurement may be performed within minutes on the P200 instrument allowing for rapid assessment of process control instruments. The instrument may be powered from the mains, a power outlet suitable for connection to a cigarette lighter or alternatively the P200 may be equipped with an internal battery, allowing for complete flexibility of use.