About
Manufacture of on-line analysers suitable for measurement of water and waste-water. We manufacture analysers reporting parameters which include TOC (Total Organic Carbon), Ammonia (ammoniacal-nitrogen) and oil film detection. UK representative for WTW, DKK & HF Scientific, 3S, Realtech and Chemitec. The instrumentation covers single and multiple parameter measurement, on-line and field portable meters. Parameters include turbidity, MLSS, ammonium, phosphate, nitrate, pH, D0, conductivity, Oil on water, oil in water, UV absorption and UVT (UV transmission). We also specialise in providing turn key monitoring solutions for water and waste water analysis. These systems include back-panels, secondary enclosures and walk-in analyser kiosks (pre-installation of instrumentation, sample preparation, frost protection, lighting, electrical and sample distribution). Installations are supported by our team of service engineers providing technical support, routine and emergency call-out cover and chemical supply. - Waste water monitoring - Water measurement - Analytical measurement - Water quality instrumentation - TOC analyser - COD analysis - BOD analysis - Ammonia analyser - Nitrate analyser - Phosphate analyser - pH meter - Turbidity meter - DO meter - Conductivity meter - ORP meter - UV254nm measurement - Oil detection - Bes
Contact
Mr Steven Tuck
Bourne Enterprise Centre, Borough Green,

Sevenoaks
Kent
TN15 8DG
www.pollution-ppm.co.uk
Protoc 300 TOC analyser for surface water quality measurement & control
The Protoc 300 TOC analyser has been extensively installed for continuous water quality measurement off surface water draining from hard standing and discharge to local water courses.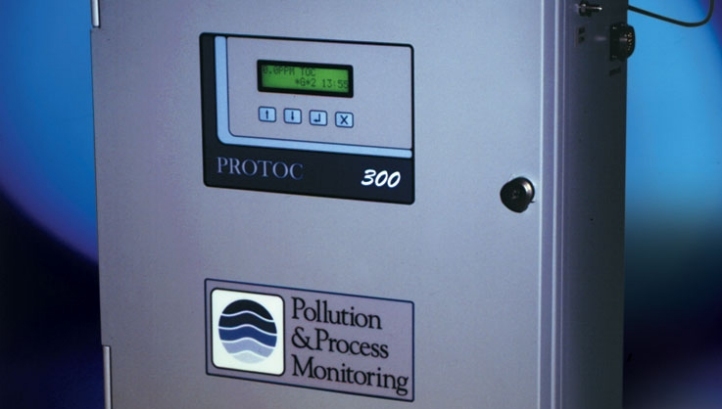 The Protoc 300 TOC analyser has an established track record for continuous water quality measurement within the industrial sector including operations regulated by the Environmental Permitting Regulations. 
Total Organic Carbon (TOC) is an important parameter which can also provide a good indication in real time of the Chemical Oxygen Demand (COD) often used to regulate discharge. The TOC measurement has also been correlated to Biological Oxygen Demand (BOD) which is used to regulate discharges to river. 
Installation include Manchester International Airport to measure water quality and identify the pressence of Glycol used for de-icing Aircraft and runways.
The Protoc instrument uses a recognised UV- persulphate technique to continuously report the organic carbon within the sample. The design can be used for truly continuous measurement and self- validates measurements against an automatic calibration routine.
Automatic wash sequences using acids or alkalis can also be integrated for challenging applications to remove bio-fouling and chemical precipitates. PPM has also designed a number of sample preparation systems suitable for a wide range of sample types. Our capabilities also extend to providing a bespoke engineering service including pre-installation within walkin analyser kiosks and secondary enclosures, complete with frost protection, lighting, electrical and sample distribution.