Pollution & Process Monitoring Ltd
About
Manufacture of on-line analysers suitable for measurement of water and waste-water. We manufacture analysers reporting parameters which include TOC (Total Organic Carbon), Ammonia (ammoniacal-nitrogen) and oil film detection. UK representative for WTW, DKK & HF Scientific, 3S, Realtech and Chemitec. The instrumentation covers single and multiple parameter measurement, on-line and field portable meters. Parameters include turbidity, MLSS, ammonium, phosphate, nitrate, pH, D0, conductivity, Oil on water, oil in water, UV absorption and UVT (UV transmission). We also specialise in providing turn key monitoring solutions for water and waste water analysis. These systems include back-panels, secondary enclosures and walk-in analyser kiosks (pre-installation of instrumentation, sample preparation, frost protection, lighting, electrical and sample distribution). Installations are supported by our team of service engineers providing technical support, routine and emergency call-out cover and chemical supply. - Waste water monitoring - Water measurement - Analytical measurement - Water quality instrumentation - TOC analyser - COD analysis - BOD analysis - Ammonia analyser - Nitrate analyser - Phosphate analyser - pH meter - Turbidity meter - DO meter - Conductivity meter - ORP meter - UV254nm measurement - Oil detection - Bes
Contact
Mr Steven Tuck
Bourne Enterprise Centre, Borough Green,

Sevenoaks
Kent
TN15 8DG
www.pollution-ppm.co.uk
Proam Ammonia Monitor for intake protection at Water & Drink production sites
The Proam ammonia monitor is manufactured in the UK by PPM and is a simple, compact and reliable analytical instrument suitable for water quality measurement.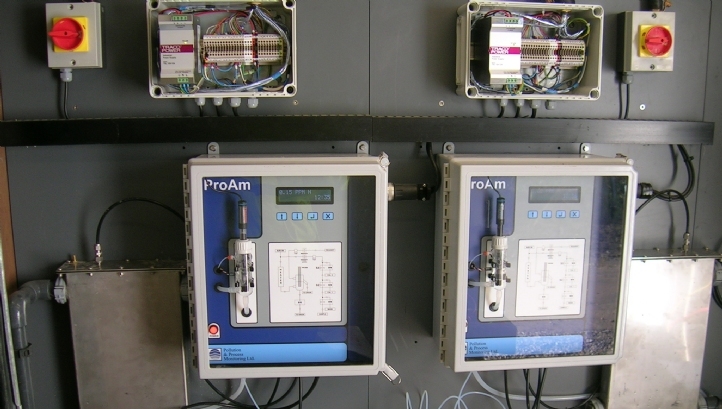 The Proam ammonia monitor is a compact, simple and reliable analyser suitable for continuously measuring river and borehole water quality.
The analyser will detect and alarm spillages in real-time to protect water treatment processes from ingress of pollution. Ammonia is a key parameter associated with the pressence of untreated sewage possing an increased risk of pathogens. 
The instrument has been extensively installed throughout the water sector with many installations within Severn Trent Water, Wessex Water and Anglian Water. The analyser has also been deployed through out industry particularly for the measurement of surface water.
The Proam instrument is simple to operate and maintain. The design can be used for continuous or intermittent analysis and self-validates measurements against know calibration standards.
The ion selective (gas sensing) measurement technique is ideal for waste-water applications and does not suffer cross interference from other dissolved ions in the sample.
The dynamic measuring range can be simply adjusted within the range 0 to 500 mg/L as N. Typically the range is configured 0-5.00mg/L as N for intake protection applications.
Whilst the instrument has pinch valve technology and wide bore tubing to minimise the possibility of internal blockage, PPM has also developed sample preparation and delivery systems to compliment the instrument. The sample preparation removes suspended solids and biology > 0.45 micron preventing ingress into the instrument and potential blockage. Maintenance is reduced and measurement reliability is optimised.