About
Manufacture of on-line analysers suitable for measurement of water and waste-water. We manufacture analysers reporting parameters which include TOC (Total Organic Carbon), Ammonia (ammoniacal-nitrogen) and oil film detection. UK representative for WTW, DKK & HF Scientific, 3S, Realtech and Chemitec. The instrumentation covers single and multiple parameter measurement, on-line and field portable meters. Parameters include turbidity, MLSS, ammonium, phosphate, nitrate, pH, D0, conductivity, Oil on water, oil in water, UV absorption and UVT (UV transmission). We also specialise in providing turn key monitoring solutions for water and waste water analysis. These systems include back-panels, secondary enclosures and walk-in analyser kiosks (pre-installation of instrumentation, sample preparation, frost protection, lighting, electrical and sample distribution). Installations are supported by our team of service engineers providing technical support, routine and emergency call-out cover and chemical supply. - Waste water monitoring - Water measurement - Analytical measurement - Water quality instrumentation - TOC analyser - COD analysis - BOD analysis - Ammonia analyser - Nitrate analyser - Phosphate analyser - pH meter - Turbidity meter - DO meter - Conductivity meter - ORP meter - UV254nm measurement - Oil detection - Bes
OFD - Oil Film Detector
The OFD is a non-contact detection system used to identify floating oil films.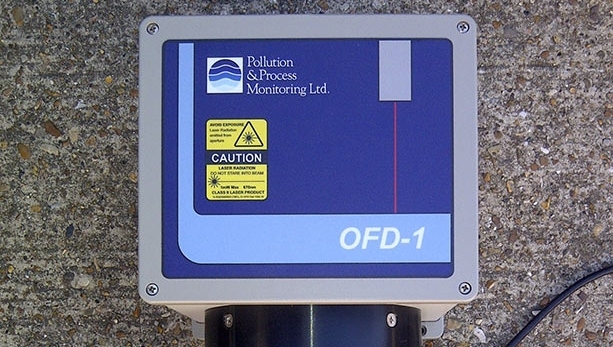 The Oil Film Detection system is manufactured by PPM in the UK and is installed to identify the pressence of floating oil films on a water surface.

The instrument is typically deployed to measure the qulaity of surface water dischargeed to a local course draining from areas of hard standing such as carparks, roads and from Airports.
The instrument uses a non-contact laser to measure the reflectance of the water surface. If oil is pressent, a visibale traces, the instrument provide an alarm output which can be used to control a isolation valve to prevent release to a local water course.
The instrument can also be used to measure discharge of colling water from turbines which can be affected by the release of lubricating oils.

Additionally, installations have been made to protect water abstrraction from rivers at water and drink production sites which can otherwise be affected by release of hydrocarbons.