About
Manufacture of on-line analysers suitable for measurement of water and waste-water. We manufacture analysers reporting parameters which include TOC (Total Organic Carbon), Ammonia (ammoniacal-nitrogen) and oil film detection. UK representative for WTW, DKK & HF Scientific, 3S, Realtech and Chemitec. The instrumentation covers single and multiple parameter measurement, on-line and field portable meters. Parameters include turbidity, MLSS, ammonium, phosphate, nitrate, pH, D0, conductivity, Oil on water, oil in water, UV absorption and UVT (UV transmission). We also specialise in providing turn key monitoring solutions for water and waste water analysis. These systems include back-panels, secondary enclosures and walk-in analyser kiosks (pre-installation of instrumentation, sample preparation, frost protection, lighting, electrical and sample distribution). Installations are supported by our team of service engineers providing technical support, routine and emergency call-out cover and chemical supply. - Waste water monitoring - Water measurement - Analytical measurement - Water quality instrumentation - TOC analyser - COD analysis - BOD analysis - Ammonia analyser - Nitrate analyser - Phosphate analyser - pH meter - Turbidity meter - DO meter - Conductivity meter - ORP meter - UV254nm measurement - Oil detection - Bes
3S Nitrate analyser designed for continuous measurement of potable water
The 3S nitrate monitor is distributed in the UK by PPM and uses UV absorption to report the nitrate concentration within the water a different stages within the production process.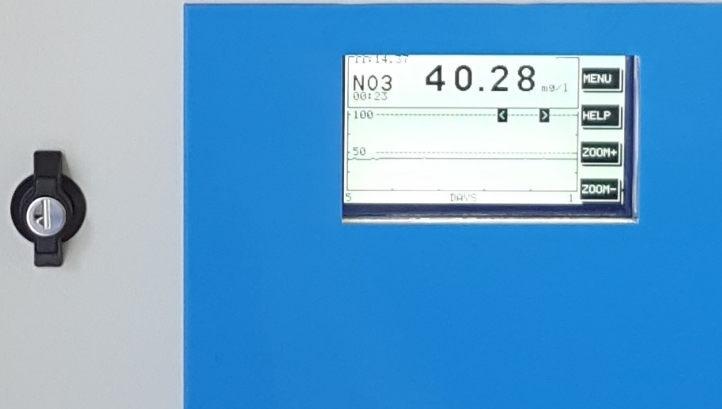 The 3S Nitrate analyser uses the latest UV absorption technology to report Nitrate without reagents.
The instrument has a selectable measurement interval and incorporates flow cell technology supported by automatic calibration (Zero) and automatic chemical cleaning (acid washing) to remove lime-scaling and fouling.
The instrument has an integral touch screen with intuitive menus allowing for configuration, operation and programming of outputs.
The rugged housing seperates the electronic interface from the flow cell and is surface mounted (or bench mounted) as appropiate to the application.
The integral peristaltic sample pump draws it's own sample wihtout the need to continuously deliver a pressurised feed, conserving water usage.
The instrument has low running costs and is very reliable.