About
Since pioneering the application of engineering plastics in the late 50s, Forbes Group has served the major companies in virtually every field of industrial activity. Not only are Forbes products in daily use at almost every significant enterprise in the UK, they have been exported around the world to locations as widespread as Arctic Russia, the Arabian Gulf, Korea, West Africa and China to name but a few. Our five purpose built manufacturing areas are dedicated to plastics manufacture and fabrication, predominantly plastic tanks and environmental technologies such as wet scrubbers, bulk tank vent scrubbers and a range of tank accessories, such as ladders and walkways, these manufactured mainly in carbon steels and stainless steels. The requirement for Forbes products are far reaching, and our large client base covers most industries including chemicals, water & waste treatment, environmental, oil & gas, dairy & food, beverages, pharmaceutical, electronics and energy. Products handled are as diverse as sodium hydroxide, beer, baby lotion, vinegar and hydrochloric acid. We strive towards continual company improvement and aspire to provide standards of excellence, efficiency and service that make Forbes a comfortable organisation to deal with.
Wet Scrubbers
Wetted Packed Towers are the simplest and most commonly used approaches to gas scrubbing.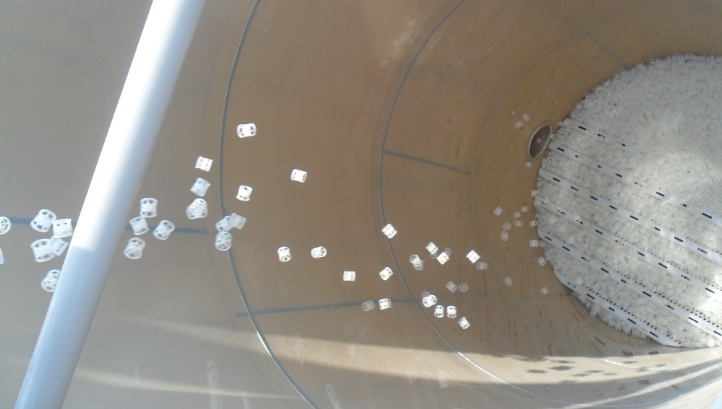 The Process
The principle of this type of scrubber is to remove contaminants from the gas stream by passing the stream through a packed structure which provides large wetted surface area to induce intimate contact between the gas and the scrubbing liquor.
The contaminant is absorbed into or reacted with the scrubbing liquor.
The packing of the tower is normally a proprietary loose fill random packing designed to:
Encourage dispersion of the liquid flow without tracking
Provide maximum contact area for the mass transfer interaction
Offer minimal back pressure to the gas flow
The reactivity between the contaminant and the scrubbing liquor influences the system designer's determination of gas and liquor flow and the height and diameter of the packed bed.
A demister is fitted at the top of the tower to prevent entrainment of droplets of the scrubbing liquor into the extraction system or stack.
High Efficiencies, Low Running Costs
Wetted packed towers can be designed for very high efficiences with relatively low capital and running costs. The low pressure drop associated with packed bed scrubbers permits the use of smaller more economical fans. Although efficiency may be affected, a packed tower will usually function when gas or liquor flows vary from its original design parameters.