About
Since pioneering the application of engineering plastics in the late 50s, Forbes Group has served the major companies in virtually every field of industrial activity. Not only are Forbes products in daily use at almost every significant enterprise in the UK, they have been exported around the world to locations as widespread as Arctic Russia, the Arabian Gulf, Korea, West Africa and China to name but a few. Our five purpose built manufacturing areas are dedicated to plastics manufacture and fabrication, predominantly plastic tanks and environmental technologies such as wet scrubbers, bulk tank vent scrubbers and a range of tank accessories, such as ladders and walkways, these manufactured mainly in carbon steels and stainless steels. The requirement for Forbes products are far reaching, and our large client base covers most industries including chemicals, water & waste treatment, environmental, oil & gas, dairy & food, beverages, pharmaceutical, electronics and energy. Products handled are as diverse as sodium hydroxide, beer, baby lotion, vinegar and hydrochloric acid. We strive towards continual company improvement and aspire to provide standards of excellence, efficiency and service that make Forbes a comfortable organisation to deal with.
Stripping Towers
Forbes Stripping Towers are designed for the efficient removal of Volatile Organics Contaminants (VOCs) from groundwater.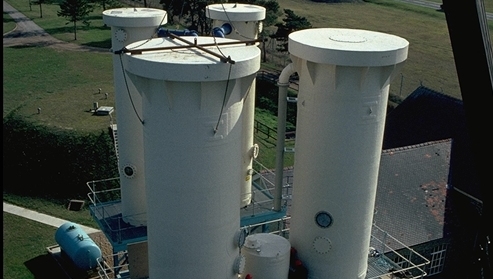 VOCs, once in the ground, can be present for a very long time. Even when they reach an aquifer, the speed of flow is often measured in just a few metres per year. Contamination may be found by chance in springs and wells or when dewatering construction sites. Or it may be surveyed and quantified when pollution, recent or long past, is known to have occurred.
The necessity for remediation is most immediate where a spring or well is needed for use, or where excavation water is too polluted to be disposed of without treatment.
An Economical Alternative to Carbon Adsorption
Activated carbon adsorption is a well established process to counter VOC contamination but the carbon is expensive and may need frequent regeneration. Air stripping is a highly cost-effective alternative to adsorption.
Normally energy consumption is modest 
There are minimal maintenance costs in typical installations
Stripping will typically reduce levels of 100mg/l to 5mg/l or below and the water can then be finally polished with activated carbon
The carbon beds will enjoy a greatly extended life having been protected from high levels of contaminant
Fast Response
Contamination problems are inherently urgent and Forbes can focus resources quickly by fast track management to meet emergency situations when required. If necessary a pilot plant can be supplied to help determine a problem and the effect of stripping.