About
Since pioneering the application of engineering plastics in the late 50s, Forbes Group has served the major companies in virtually every field of industrial activity. Not only are Forbes products in daily use at almost every significant enterprise in the UK, they have been exported around the world to locations as widespread as Arctic Russia, the Arabian Gulf, Korea, West Africa and China to name but a few. Our five purpose built manufacturing areas are dedicated to plastics manufacture and fabrication, predominantly plastic tanks and environmental technologies such as wet scrubbers, bulk tank vent scrubbers and a range of tank accessories, such as ladders and walkways, these manufactured mainly in carbon steels and stainless steels. The requirement for Forbes products are far reaching, and our large client base covers most industries including chemicals, water & waste treatment, environmental, oil & gas, dairy & food, beverages, pharmaceutical, electronics and energy. Products handled are as diverse as sodium hydroxide, beer, baby lotion, vinegar and hydrochloric acid. We strive towards continual company improvement and aspire to provide standards of excellence, efficiency and service that make Forbes a comfortable organisation to deal with.
Dual Laminate Tanks
Renowned GRP storage tank manufacturer, The Forbes Group, manufactures thermoplastic GRP tanks using the latest dual laminate technology.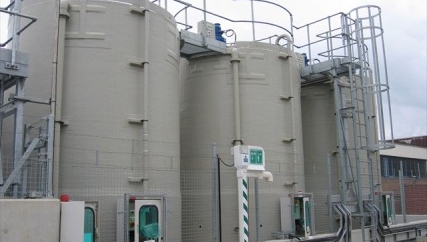 Dual laminate GRP storage tanks combine the outstanding strength of GRP (Glass Fibre Reinforced Plastic) with the high chemical resistance of a thermoplastic inner shell. Dual laminate GRP storage tank technology is now accepted as standard in virtually every industry from chemicals to food and water, microelectronics and offshore oil and gas.
From 200 to 200,000 litres capacity
Can be made in almost any size, subject only to road transport considerations.
Incorporates conductive material behind weld lines and nozzle penetration so that the integrity of the grp storage tank can be proven by spark testing throughout its working life
Can be designed with integral steelwork such as ladders, hand railing, platforms and agitator bridges
Straightforward to include side access manways
Design and construction in accordance with BS4994:1987
The Forbes economic range of flat bottomed dual laminate tanks offers superb value for money.
Available with different thermoplastic inner shells including Polypropylene (PP), PVCu, PVDF & ECTFE – the most appropriate selected for each application.
Also known as the Lion range, when manufactured under DWI: Regulation 31