About
AAC Eurovent provide market leading Odour Control and VOC Reduction solutions for Wastewater & Sewage Treatment applications. Our robust range of Carbon Filter products can be found in Wastewater and Sewage Treatment facilities, across the UK and globally, where they deliver high efficiency removal of Hydrogen Sulphide, Mercaptan, Indoles and Skatoles. Our competitively priced, plastic refillable, Carbon Filters are designed for use with a range of AAC bespoke products including our Swiftpack Carbon Filter Housing and the AAC PV Passive Vent, which delivers a robust passive ventilation solution for tank venting applications. Our DFV Drum Filter range is designed to efficiently remove organic and inorganic odour such as Hydrogen Sulphide, Formaldehyde and Ammonia from air or gas streams, and our competitively priced Bulk Filters, Carbon Canisters, and Liquid Filter solutions remove a wide range of organic compounds in semi-static, emergency, or temporary operations. We also offer a competitively priced Activated Carbon Media Testing service, which includes the patented Colourcell Media Filter System, and a fast turnaround Carbon Filter Media Replacement and Media Disposal Service.
Contact
Mr Robin Elshout
AAC House, Unit K Maybrook Industrial Estate, Maybrook Road

Brownhills
West Midlands
WS8 7DG
www.aaceurovent.co.uk
Modular Liquid Filter Odour Control Solutions for Wastewater and Effluent Processing
The AAC LF Liquid Filters offer a high performing modular Carbon Filter solution for Wastewater and Effluent Processing applications.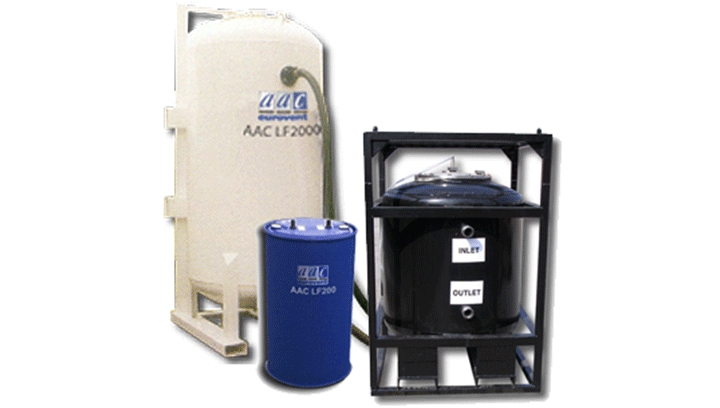 These low-cost filters are designed for the efficient removal of a wide range of organic compounds. and are suitable for semi-static, emergency, or temporary operations such as site remediation and spillage scenarios.
To support Carbon Filter projects, we also offer a fast turnaround Activated Carbon Media Testing and re supply service.
Find out more about the AAC LF Liquid Filter
To find out more about the AAC LF Liquid Filter please call our Sales Team on 0800 999 4884