About
As part of the AVK Group we pride ourselves in being one of the leading valve and fittings worldwide manufacturers for the water, sewage, fire fighting, gas and industrial which includes the power generation, oil and gas, chemical processing, pulp and paper, life sciences and mining industries. Our product program comprises a large range of valves, hydrants, pipe fittings and accessories, each complying with the highest standards of safety and durability.
New and Extended Penstocks Range from Glenfield Invicta. Leaders in Penstock Solutions.
At Glenfield Invicta, our reputation has been earned by ensuring that not only is the right solution chosen at the inception stage but that the right product is installed correctly, avoiding costly delays and frustrating callbacks for problems with leakage or faulty operation.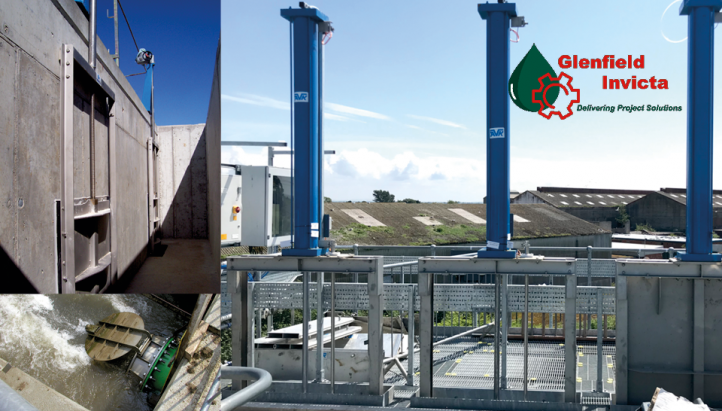 In isolation, a penstock is a simple sluice or gate that controls the flow of fluids in open environments. In reality, as any water engineer will tell you, specifying, building and installing an effective penstock is a challenging exercise.
Imagine for a moment you are the engineer responsible for the safety and performance of critical assets. You, and your procurement team, have to appoint a company to specify, design, install, commission and maintain vital penstocks. In an ideal world, what would that company look like?
You would probably look for a penstock specialist, a company with a proven track record in delivering successful penstock projects, large and small, over many years. Choosing a novice would be a risk.
However, you're only as good as your next penstock, so you would look for a company with engineers that understand penstock engineering from first principles. The ability to deliver a design that is specific to your location and requirements is a must have.
You would probably be concerned if different companies were designing, manufacturing and installing your penstock: unnecessarily complex. You would probably look for a company that can deliver from start to finish. A company that employs its own specialist penstock installation teams.
You would want to be sure that the company you choose is going to be around for many years to come. They would ideally have a track record of financial stability with the resources to accommodate whatever shocks the economy throws at them.
You are going to have to work closely together, so you would probably look for a company which can show a track record of partnership in delivering penstock projects.
Finally, in an ideal world you would probably want the company you choose to have an office close by. Even in a virtual meeting world, nothing beats talking through a project face-to-face.
Welcome to Glenfield Invicta. The company you (probably) would have designed.
A company with over 160 years of penstock experience; a company with a team of penstock engineers that have delivered an unrivalled portfolio of penstock projects; a company with directly employed installation teams; a company supported by the resources of the AVK Group; a company with offices throughout the UK; a company that believes in partnerships, in sitting down with you and getting things right.
We are launching our new and extended, market leading, penstock solutions offer, and we would welcome the opportunity to talk through this with you. Our mission is to provide you with the optimal penstock engineering and installation solution on every project.
Here at Glenfield Invicta, we recognise the need to keep learning. We will shortly be opening our 120,000 sq. foot, (that's almost 3 football pitches) Kilmarnock Learning Academy, visitor centre and manufacturing and distribution centre, where we will share our penstock know-how with you and hope that you will share your expertise with us.
To discuss your penstock project please contact:
Alex Philo
Glenfield Invicta
Business Development Manager Penstocks
T: 07876 860319
E: alex.philo@avkukprojects.co.uk