Industry leaders discuss water regulation
28/10/2010
Senior representatives from Government, water companies, and water industry regulators met on 28 October to discuss the current regulatory regime's capacity to meet future challenges.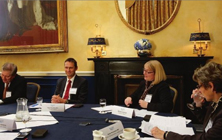 Against the backdrop of the Cave and Walker reviews, the coalition Government is currently involved in a number of initiatives to assess changes to the sector's regulatory framework.
The Round Table, which was held at the Institute of Directors in London, brought together representatives from all of these constituencies to discuss their aspirations, and outline their predictions, for the future shape of water industry regulation in the UK.
The participants included Ofwat chief executive, Regina Finn; Ian Barker, the Environment Agency's head of water; Anne McIntosh MP, chair of the All Party Parliamentary Water Group and senior representatives from Severn Trent Water, Anglian Water, Thames Water and Scottish Water.
Chairing the debate was Bob Baty, former executive director, South West Water. The proposition under discussion was:
How does regulation of the UK water industry need to change in the new economic and environmental climate?
Most participants agreed that climatic, economic and social changes mean the current regulatory system may no longer be able to ensure the levels of performance the industry has achieved since privatisation in 1989.
Other key points included:
The role of competition in meeting the new challenges
The need to raise customer awareness about the economic, social and environmental value of water
A call for clarity on legislators' long-term goals for the water sector
The Round Table was organised by WWT magazine in partnership with
Black & Veatch
.
Download Transcript

>
Participants
Bob Baty Chairman, Former CEO
South West Water
Janet Wright Director
Indepen and former member of the Cave Review team
Tony Ballance Director of strategy and regulation
Severn Trent Water
Anne McIntosh MP Chair
All Party Parliamentary Water Group
Ian Barker Head of water
Environment Agency
Mark Braithwaite CFO
Thames Water
Dan McCarthy President and CEO
Black & Veatch
Jean Spencer Director of regulation and executive director
Anglian Water
Regina Finn Chief executive
Ofwat
Belinda Oldfield General manager - regulation
Scottish Wate
}