Going's good for asset leaders
14/06/2010
The directors of asset management for four water companies and other industry leaders met for a top level debate at Warwick Racecourse on 14 June.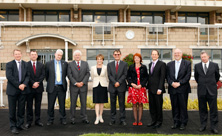 The WWT Round Table on Asset Management was hosted by consulting and business services group Mouchel.
Participants included Chris Newsome of Anglian Water, Stephen Bird of South West Water, David Elliott of Wessex Water and Piers Clark of Thames Water. The event was chaired by asset management expert Clive Deadman, business development director at United Utilities. Ofwat was represented by Mark Worsfold, head of asset strategy.
Participants discussed the key issues of regulation, technological innovation and best practice in asset management. The panel was tasked with finding comparisons with other sectors and the Office of Rail Regulation's Jim Bostock, who worked at Severn Trent Water until recently, was in no doubt that water is streets ahead of rail.
He made the point that water is a victim of its own success in that the public is disinterested and disengaged because, compared with rail, the industry is cheap and efficient. There was a consensus among the panel that the Capital Maintenance Planning Common Framework underpinned this success.
Mark Worsfold praised the industry for the stable position it now finds itself in, but urged it to find new approaches to maintain and improve on the level of service? "As new innovations and technologies come on-stream, you can achieve the same amount at far lower cost," he said.
The regulator also urged water companies to move towards real-time notification of asset failure, as seen in the manufacturing sector. "How many times do we record failure by a customer ringing our call centres and telling us we have failed to deliver?" he asked.
The dialogue will be presented in a special supplement to
Water & Wastewater Treatment
magazine's July issue.
Download Transcript

>
Participants
Clive Deadman Chairman Business Development Director
United Utilities
Mark Worsfold Head of Asset Strategy
Ofwat
Jim Bostock Head of Engineering & Asset Management
Office of Rail Regulation
Stephen Bird Director of Ops
South West Water
Chris Newsome Director of Asset Management
Anglian Water
Piers Clark Interim Asset Director
Thames Water
Ken Gedman Business Unit Director, Asset Management
Mouchel
Denise Massey Director
Energy Innovation Centre
David Elliott Director of Regulation & Assets
Wessex Water
}