Wessex Water self-generates 29 per cent of energy
Wessex Water produced 29 per cent of its own energy from renewable sources in the first half of the year.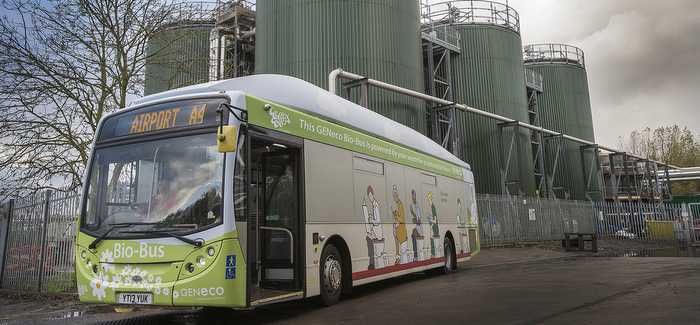 Wessex's Avonmouth treatment works generates biogas which has been used to fuel buses
In its interim report for the six months to September 2016, the water company said an increasing proportion of its sludge is treated using the anaerobic digestion process.
This process reduces the volume of sludge for recycling while generating renewable energy to reduce the company's costs and carbon footprint.
Wessex said it has a performance commitment to increase the proportion of self-generated energy and is investing in upgrades to its sludge digestion facilities to increase the proportion of sludge that it digests. This includes the installation of advanced anaerobic digestion at Trowbridge and Taunton and additional digestion capacity at Berry Hill, Bournemouth.
The firm is exporting power from Trowbridge following installation of the new plant in 2015/16. Meanwhile, biomethane export from Bristol sewage treatment works from April to October was 25 per cent more than the same period in 2015/16.
The company also announced that it had diverted 98 per cent of all non-sludge waste from landfill for the first six months of 2016/17. The only remaining wastes now being sent to landfill are contaminated wastes and a small amount of general waste. Wessex continues to explore recycling routes for these remaining materials to move towards a 100 per cent landfill diversion rate.
Operating profit for the first half decreased by £1.4 million to £118.8 million, while profit after taxation increased by £2 million to £86.1 million. Operational costs (excluding depreciation) increased by £4.3 million to £95.9 million.
Total turnover increased by £4.6 million to £266.8 million. Regulated tariff turnover rose by £5 million of which £4.9 million was due to a 0.8 per cent price rise allowed by Ofwat, increased by November RPI of 1.1 per cent. There were increases due to new customers offset by the impact of customers switching to meters. Turnover from non-tariff activities decreased by £400,000.
-This article first appeared in Utility Week.