Welsh Water plans solar power for Five Fords WwTW
Plans to generate renewable energy at its Five Fords wastewater treatment works, near Marchwiel, Wrexham, have been submitted to Wrexham County Borough Council by Dwr Cymru Welsh Water. The plans involve the installation of solar panels and will play a key part in helping the company become more self sufficient in energy generation; reduce its carbon footprint; and benefit customers by reducing overall operating costs.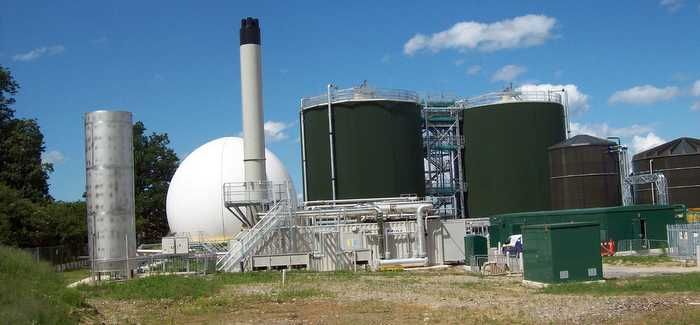 Anaerobic digesters were installed at Five Fords in 2012 as part of a £23M investment
The treatment works, which benefited from an investment of £23M to install anaerobic digesters in 2012, is Welsh Water's largest treatment works in north Wales, and the proposed solar panels will generate 4.8MW of energy. Welsh Water wants to install 20,000 solar panels on land within the boundary of the treatment works and on adjoining land in its ownership.
Mike Pedley, Welsh Water's head of energy said: "The proposed solar panels at Five Fords will help to reduce our carbon footprint and benefit the environment as we become more self sufficient moving into the future. We have set an ambitious target to reduce this footprint by 25% by 2015."
"The treatment and transportation of drinking water and wastewater are energy intensive processes which are reflected in our annual energy bill of over £40 million. By generating our own energy we can reduce our operating costs which will then help to keep our customers bills as low as possible."
The solar panels will have a 20-year operational life span and after this time will either be renewed or the land returned to agricultural use.