UK software firm honoured for Australian water work
UK software company SEAMS, in partnership with consultancy AECOM, have won a major award for their asset management work with a water company in Australia.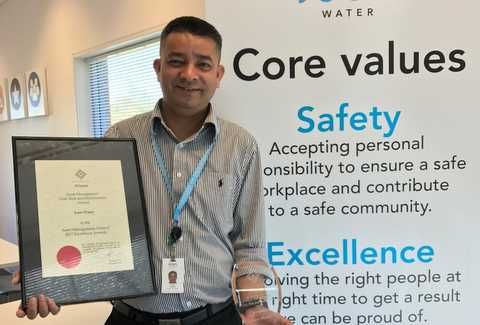 ICON Water, which provides water and sewerage services to the Australian Capital Territory, was awarded the AMCouncil Asset Management Award 2017, recognising excellence in the management of physical assets through their life cycle and showcasing its use of best practice asset management systems and processes.
Making use of SEAMS' investment planning expertise and Enterprise Decision Analytics (EDA) software, ICON Water were able to optimise their sewer asset intervention strategy to achieve their risk, cost and performance targets over a 20-year period. The outputs supported their dialogue with stakeholders and informed their 2018-2023 regulated sewer investment plan.
Richard Hawkins, Accounts Director at SEAMS, said: "We were thrilled to be selected by ICON Water to work with them and AECOM on this project, and for ICON Water to win this award with our software makes us immensely proud. We've invested a lot of time and energy into developing gamechanging technology that's unique in its field and this award means a lot."
Andrew Behn, Project Lead at ICON Water, said: "For Icon Water, this approach has delivered clear articulation and understanding of the balance of cost, risk, and performance with regard to our sewer network. The application of SEAMS' EDA is the first of its kind in Australia.
"The new processes and systems, delivered in partnership with SEAMS and AECOM has helped us immensely in identifying and determining various impacts on levels of services into the future and overall benefits and costs under a number of different investment and intervention scenarios. This award is recognition of the benefits of using best practice asset investment planning."
SEAMS was founded in Sheffield, UK in 2002 and has since grown to become one of the UK's leading asset management software providers, working with infrastructure based organisations across the globe to help reduce costs and improve service.