UK sewer sensor research wins Australian prize
Researchers from two UK universities have won a major Australian innovation prize for their work on a new type of sensor which has been used in Sydney's sewers.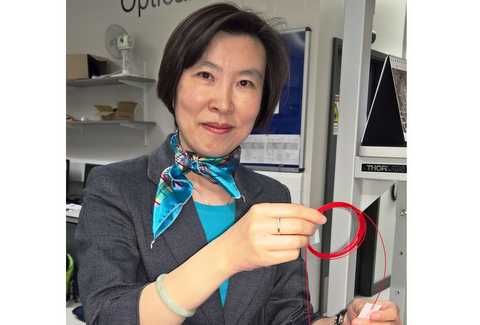 Professor Tong Sun of City, University of London
The team from City, University of London and Edinburgh Napier University won the 2017 Australian Water Association's NSW Water Award for Research Innovation.
Their collaborative research project focussed on the development of a new class of photonics-based humidity sensors for Sydney Water's use in the management and rehabilitation of deteriorated concrete gravity sewers and corrosion at treatment facilities.

The two UK universities produced sensors with specialized, tailored coatings designed specifically to operate under the highly biofouling and corrosive conditions in Sydney's sewers.

As a result of this successful research Sydney Water will implement these sensors in a number of selected sewer locations and the findings will contribute to the future design of sewers.
Professor Tong Sun, Professor of Sensor Engineering and Director of City's Research Centre for Photonics & Instrumentation, said: "We are delighted that our work with Sydney Water has been recognized with this Research Innovation Award at the recent Australian Water Association Awards Ceremony in New South Wales.  Our innovative fibre optic sensor technology, designed for and deployed in the city of Sydney, has enabled Sydney Water to undertake long term monitoring in the harsh corrosive and biofouling conditions of the city's sewers, offering major savings in terms of management and maintenance of this critical asset.
"Through its international strategy, City, University of London, is committed to be the best at problem-solving in situations like this, operating wherever the issues arise. We are pleased to be continuing our work with Sydney Water on a range of challenges to support the optimum management of their critical infrastructure."  
The Australian Water Association is the national peak water organisation, delivering information, expertise and collaboration for sustainable water management. Its membership includes professionals and practitioners working in utilities, science and research, energy and resources, manufacturing and agriculture. It has an active branch network across all Australian States and Territories and maintain extensive international links, including with the International Water Association.