Scottish Water fined for sewage pollution at Doune
Stirling Sheriff Court has fined Scottish Water £6,000 for causing untreated sewage to enter the Dragon Burn, a tributary of the River Teith. The utility pleaded guilty to allowing untreated sewage to enter a combined sewer and emergency overflow that subsequently discharged to the Dragon Burn between March 11 to 15, 2012.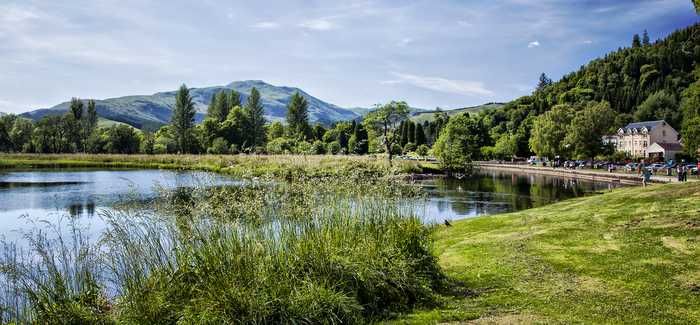 The Dragon Burn is a tributary of the River Teith
The incident was investigated by the Scottish Environment Protection Agency (SEPA) after it received a complaint from a member of the public regarding pollution of the Dragon Burn in Doune.
A SEPA officer inspected the Dragon Burn at George Street about 100m upstream of the Scottish Water sewage pumping station at Doune Fire Station, the watercourse was running clear. However, about 275m downstream, a significant deposition of sewage related debris and sewage fungus could be seen on the banks and bed. There was also a significant growth of sewage fungus in the burn and the water was running grey in colour. Sewage deposits were running the full 275m.
An inspection at the surface outfall of the sewage pumping station showed there was a discharge of what appeared to be sewage to the Dragon Burn from the surface outfall pipe. This is the outfall used as the combined sewer overflow and the emergency overflow.
Officers checking the telemetry control panel at the sewage pumping station found that Pump 1 had tripped or overloaded and Pump 2, the Duty Pump, was stopped. Subsequent correspondence with Scottish Water revealed that the discharge occurred when both pumps at the station failed and the wet well then filled resulting in a spill to the watercourse. There was also a fault within the Remote Telemetry Unit and no alarms were recorded over the past three months.
 
Calum Waddell, SEPA's investigating officer, said: "The failure of both pumps within Doune Fire Station sewage pumping station meant no sewage was being passed forward for treatment resulting in the discharge of sewage to the Dragon Burn. This could have been avoided if the station had operational alarms in place to alert staff to any problems with the pump.
"In addition, the operators of the station were unaware of the presence of the screens, and so they were not maintained and couldn't do their job when needed. This caused the significant debris in the watercourse, exacerbating the entire pollution incident."
comments powered by

Disqus