Physical factors vital for sludge intensification
Improving physical factors in the sludge treatment process is the key to achieving intensification and getting more out of sludge treatment infrastructure, delegates at the SludgeTech conference heard.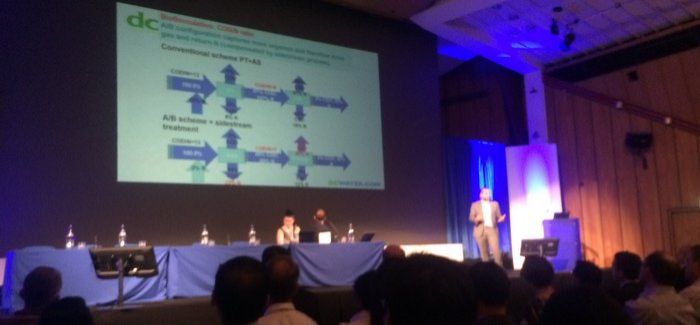 Sludgetech 2017 attracted visitors from across the world
Giving a keynote address at the event held at Imperial College London, Dr Sudhir Murthy, Innovations Chief at DC Water, said that intensification and energy efficiency would be important considerations when designing and upgrading treatment plants capable of serving mega-cities created by population growth, especially in Asia.
"This is the decade of water," said Dr Murthy. "In the next two decades more wastewater treatment plants will be built and upgraded than at any time in the history of mankind. It's a great opportunity and a great challenge."
He spoke about DC Water's Blue Plains wastewater treatment plant in Washington DC, a 1500 ML/day plant which has been serving the US capital since 1938. There is no scope for expanding the site, so the publicly-owned utility has focused instead in recent years on intensification, making the most out of its assets within the existing footprint. "We don't have any more room, so we need to do more, with less, and in less space," he told delegates.
The first priority was to improve the viscosity of sludge, which would then make the anaerobic digestion process more efficient. DC Water did this with the help of thermal hydrolysis technology from CAMBI which doubled the viscosity of the sludge going to the digesters from 10% to 20% on average.
Centrifuge technology was used for the dewatering stage before the THP process, while a belt filter press was used for anaerobically digested solids. Both processes improved the physical qualities of the sludge and the centrifuge enabled phosphorus removal, by retaining the heaviest material. Since the introduction of these processes the utility has been able to sell biosolids as fertiliser under the brand name of 'Bloom'.
Other processes improved included flocculation – with the addition of a new flocculation tank after a co-operative project with Thames Water – and compressibility, with continuous de-ammonification and screening with a 95% retention rate.
Overall, while intensification projects are generally required to achieve a 30% improvement in performance to make them viable, DC Water's process improvements achieved over 100% improvement, and in some cases more.
The conference also heard a keynote presentation from Professor Damien Batstone, Advanced Water Management Centre at the University of Queensland, who spoke on the use of modelling to assess options for anaerobic digestion. Professor Batstone, who was one of the experts who formulated the industry standard ADM1 model fifteen years ago, said that modelling the likely performance of a plant has never been more important at a time when utilities are trying to sweat their assets and the infrastructure choices they make now will need to be lived with for 40 years or more. He highlighted changes to ADM1 which had brought about simplified inputs and made modelling more dynamic, while also demonstrating the importance of modelling failure as well as successful operation: he highlighted the example of how putting digesters in sequence rather than parallel could lead to better performance but could lead to more serious consequences if a digester failed.
The final keynote presentation was from Dr F. Dilek Sanin of the Middle East Technical University in Turkey, who spoke on the dangers of emerging contaminants in sludge. She drew a distinction between genuinely new contaminants, and those which are not new but which cause problems which are only now emerging. Many substances considered to be emerging contaminants are in the latter category, with hormones, detergents, surfactants, drugs and disinfectants among those chemicals which are often not removed by the wastewater treatment process and accumulate in sludge. Dr Sanin highlighted advanced oxidation processes as one potential solution to some of the challenges caused by emerging contaminants.
Held at Imperial College London between July 9th and 13th, SludgeTech 2017 was jointly presented by the International Water Association (IWA) Specialist Group on Sludge Management and WaterTech Events. Info: www.sludgetech.com