Outstanding achievement honour for WaterAid's Barbara Frost
WaterAid chief executive Barbara Frost has been awarded the prestigious Daniel Phelan Award for Outstanding Achievement 2015 at the annual Charity Awards. Frost received the honour for her dedicated commitment and influential contribution to international development, as well as her wider contribution to the sector as a deputy chair of the Association of Chief Executives of Voluntary Organisations.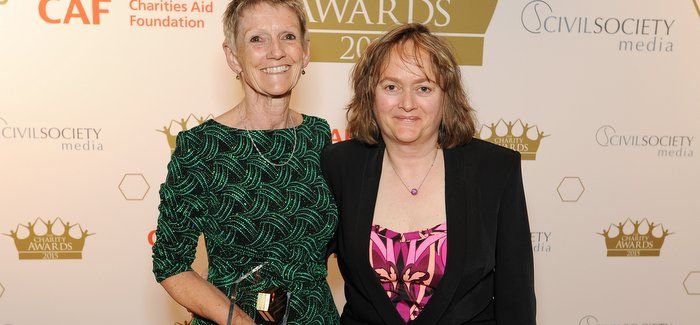 WaterAid's Barbara Frost (left) receiving the award from Baroness Jill Pitkeathley
Frost said: "I'm absolutely delighted to receive this award. I'm very fortunate to have had the chance to serve both WaterAid and Action on Disability and Development. Both are organisations of talented and committed people who, with our supporters, are passionate about addressing injustice and making a real difference to people's lives around the world.
"WaterAid was born out of the inspiration of the UK water industry, and now with the support of individual supporters, governments and companies much has been done to assist poor and marginalised people around the world gain access to safe water, sanitation and hygiene.
"This year is particularly significant as in New York in September UN nation states are expected to sign up to eradicating extreme poverty by 2030 – an inspiring global commitment which  will require everyone in this world to have access  to safe water, sanitation and hygiene. The challenge is now really on."
Andrew Hind, chair of the Charity Awards judging panel, said: "Barbara was an easy choice for this year's Outstanding Achievement Award. She is a consummate campaigner and a hugely popular figure both among her own colleagues and in the wider sector, not least because she only ever seeks profile for her organisation and the issues it's trying to progress – never for herself.  She genuinely deserves this honour."
WaterAid is one of the fastest growing larger charities in the UK and is now working in 37 countries, focusing on poor and marginalised communities accessing safe water, sanitation and hygiene as a major step out of poverty.