New £60M treatment works for Plymouth takes shape
Workers building South West Water's new £60M state-of-the-art water treatment works for Plymouth and the surrounding area have marked 300 days of progress since construction started.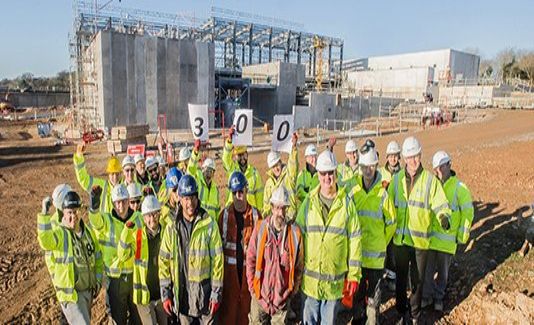 Workers at the Mayflower Water Treatment Works site
Since work began on the Mayflower Water Treatment Works in April 2016, the construction team has laid 5,000 cubic metres of concrete, fixed 965 tonnes of steel, moved 72,000 tonnes of earth, laid 7,380 metres of new pipeline, issued 808 drawings and 4,042 documents, and worked 122,555 hours without injury.
Recent visitors to the site at Roborough, just north of Plymouth, include Gary Streeter MP, engineering students from Plymouth University and other community representatives. The project, the first of its kind in the UK, is also attracting widespread interest from other water companies around the world, as it will use innovative water treatment processes to deliver cleaner water more efficiently.
The new technology uses suspended ion exchange with resin regeneration system, inline coagulation and ceramic membrane microfiltration. It is the first time that this combined technology has been used in the UK. The processes used were designed and developed by leading Dutch water technology company PWNT, and tested at a prototype facility at Crownhill from June 2013 until June 2015.
South West Water's Managing Director Stephen Bird said: "After years of planning and months of hard work on site it is exciting to see our flagship water treatment works taking shape.
"We're approaching the halfway point of the construction timetable and while there is plenty more to do, real progress is being made and the team have been working tirelessly in all weathers to ensure we're on target to finish the main building work by next Spring."
Mayflower Water Treatment Works will replace the outdated treatment works at Crownhill in Plymouth, which was built in the 1950s and is reaching the end of its useful life.
Around 150 people will be employed during construction.
Mayflower is on schedule to become operational in September 2018, with the existing Crownhill works retiring from service a few months later. The project is South West Water's biggest single capital investment in its 2015-20 business plan.