MUS uses Robotics Process Automation for safe dig planning
Morrison Utility Services (MUS) is using Robotics Process Automation (RPA) technology to deliver new safety, quality assurance and efficiency levels to its utility plan ('safe dig pack') preparation processes.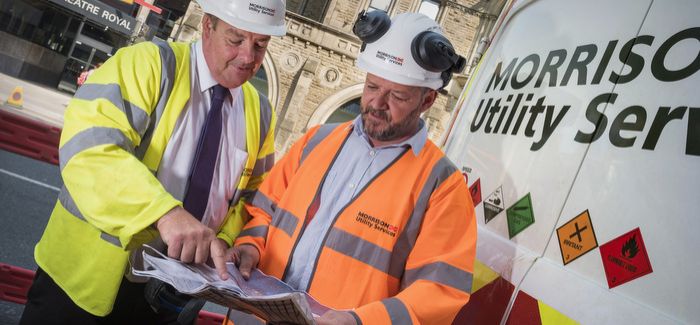 The company produces more than 150,000 safe dig packs a year, used to establish the location of underground assets - electricity cables, gas/water pipes, telecoms cables, etc - and ensure appropriate planning and safety precautions are taken before excavation work takes place. 
The solution deploys software robots that mimic defined human actions to retrieve asset location information and handle high volume repeatable tasks and its introduction is delivering a number of benefits to the MUS safe dig pack process including;
Enhanced safe dig pack quality and consistency (up from 99.88% to 100%)
Improved transactional processing efficiency
Reduced response time for delivering requests - faster, more accurate throughput with potential to cut data entry costs by up to 70%
Andy Carter, MUS director of Business Process Improvement, said: "An estimated 60,000 underground cable strikes occur in the UK each year, each with the potential to cause a serious injury or fatality, as well as the significant financial impact of associated damages and compensation costs. With safety at the heart of the process, our safe dig packs have to contain zero defects and are often required at short notice to meet business demand. Without this information, our teams in the field are unable to proceed with their work – leading to aborted work costs and the potential for customer inconvenience and financial penalties."
Carter added: "The RPA solution is both flexible and easily configurable, with none of the complex coding and formulas that other automation techniques often require, providing the scope for us to deliver core processes more efficiently, accurately and cost-effectively. To date, RPA has demonstrated the capacity to produce an average of 800 packs per day, with the potential for more if required – a significant increase on the previous daily average of just under 600 safe dig packs produced by human hand."
The RPA solution is being piloted as part of a ten-year strategic business process outsourcing (BPO) partnership with Sopra Steria, a leader in digital transformation.