Health and safety drones a gamechanger, says Thames
Using a new fleet of drones for inspecting large equipment will be a 'gamechanger' for Thames Water's health and safety team, the utility has predicted.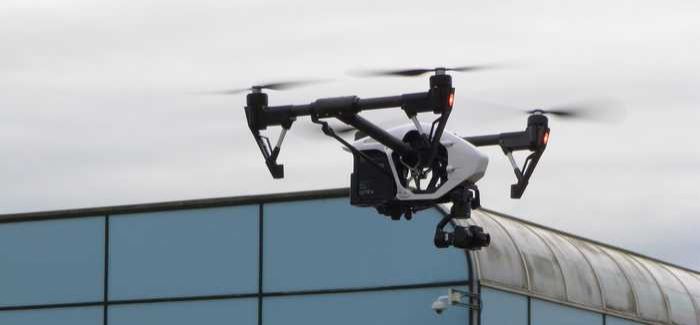 After a successful trial last summer, Thames is now deploying the airborne devices to inspect cranes and other equipment at height, a much cheaper and safer alternative to previously available methods.
"The great benefit they bring is that they enable us to inspect cranes and other equipment at height without putting people into potentially hazardous situations," said Carol Moore, Thames Water's head of safety, health and wellbeing training and statutory compliance.
And there's a cost benefit too. "To get scaffolding around a crane so it can be inspected costs between £10k and £12k every year," she said. "For a digester it can be as high as between £75k and £90k every time it needs inspecting."
In the summer, the drone was used in a trial at Abbey Mills pumping station to see if the images it produced were of sufficient quality to satisfy insurance inspectors and the Health and Safety Executive. "We found that the HSE was satisfied," said Carol. "It means we can't rule out human inspections totally but they can be used in three out of every four years, for example."
And with around 100 cranes that need inspecting every year, it's clear her hopes of a whole fleet of drones are fully justified.
"Cranes are just the start," she said. "We want the thermal imaging cameras we can attach to the drones to test for leakage in the trunk mains and our Infrastructure Alliance will find it useful for reservoir inspections, leaks, bursts, roof inspections and aerators – if you see bubbles from the air, that means diffused aeration. In slow sand filter beds, you're looking for discolouration."
Thames Water's trials with the drones have attracted the attention of other water companies, many of whom are finding other varied and profitable uses for drone technology. For example, both South West Water and Anglian Water have trialled the use of drones with thermal imaging for detecting leakage.