Groundforce Shorco props up Bryn Cowlyd WTW project
Props supplied by Groundforce Shorco have enabled a large excavation to be carried out in very difficult ground conditions at Welsh Water's Bryn Cowlyd water treatment works.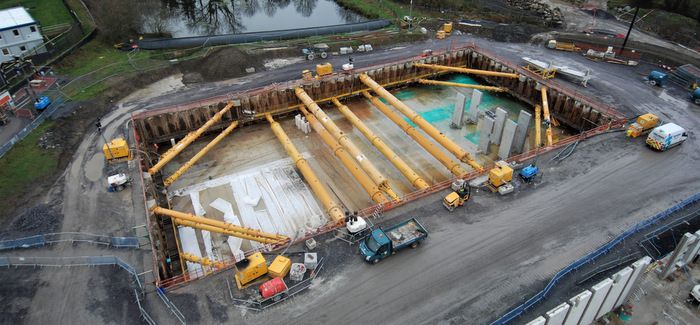 The facility is located on the eastern side of the Carneddau mountain range on the outskirts of Snowdonia National Park. A £31M programme is now under way to upgrade the works and provide additional levels of treatment, including hydrogenation dissolved air filtration (DAF), rapid gravity filter (RGF) units, sludge handling, a new chlorine drum store, chlorinators, generators and a high lift pumping station.
The work is being carried out by Skanska and its designer, Arcadis, as part of Welsh Water's Capital Delivery Alliance, and includes a large cofferdam for the RGF structure. One of the biggest challenges for the design and construction team is the location of the works: it sits on the southern bank of the Afon Ddu, approximately 600m from its confluence with the Afon Conwy, and the entire site is on the tidally influenced flood plains of both rivers.
The original treatment works was built on a rock shelf below the Carneddau mountains, but the new facilities are being constructed on soft, silty ground, mixed with fluvial and boulder material. These poor ground conditions were a challenge for the Skanska temporary works team responsible for designing the RGF cofferdam, which consists of a 55.6m long by 29m wide by 5.5m deep excavation constructed within a steel sheet piled wall driven to a depth of 8m.
Groundforce Shorco was brought in to supply the props, with the solution utilising a variety of Groundforce's hydraulic struts over two levels.
There was the possibility that the temporary structure may go into tension at the top of the sheet piles during the excavation because of the poor ground conditions. The props are designed for compression, so the props in the upper level had to be capable of being locked off if the structure went into tension.
comments powered by

Disqus