Grit removal from wastewater reveals digester efficiencies
The installation of a grit removal process at a large wastewater treatment works can create TOTEX efficiencies by reducing the need for digester cleaning and improving the quality of sludge used to generate energy, a project between Northumbrian Water and CDEnviro has shown.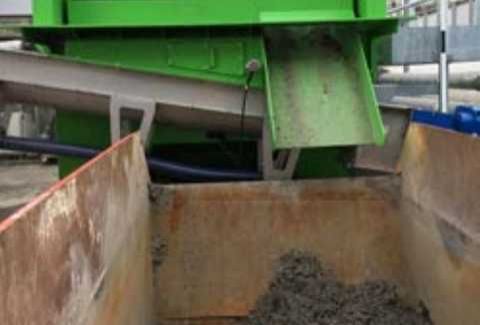 In August 2016 CDEnviro installed equipment at Bran Sands Wastewater Treatment Works with the aim of removing the rag and grit in the imported sludge coming to the facility. Bran Sands, near Middlesbrough, is one of Northumbrian's biggest works, bringing in sludge from satellite sites alongside an indigenous feed; the sludge is used to produce biogas and the site has a total generating capacity of 4.7MW.
The goal of the project was to show how the rag and grit removal would affect the interval between which digesters needed cleaning out. The site has three digestion tanks which require a cleanout every seven years due to a build-up of grit, ultimately reducing the biogas generating capacity.
For the sake of a controlled study, only imported sludge was used in the project: approximately 30% of the incoming sludge was involved, amounting to 9000m3 of sludge over a five-week period.
This sludge was screened at the satellite sites and transported to Bran Sands where it was pumped through the installed equipment. The rag and grit was collected in different skips which were then measured to calculate the resultant weight. Screened sludge then proceeded through the normal path and into the digestion tanks before being used to create biogas.
During the five-week project, 3.8 tonnes of grit and 2.2 tonnes of dewatered rag was extracted from the 30% of incoming sludge used. Scaled up to 100% of incoming sludge, this would equate to 127 tonnes of grit in one year and 889 tonnes in a seven year period; and 73 tonnes of dewatered rag per year or 511 tonnes in a seven-year period.
At the outset it was estimated that at each clear-out of the three digestion tanks, taking place every seven years, 750 tonnes of grit alone was removed from the digesters. However, this figure only includes grit which is deposited in the digesters, and not grit deposited elsewhere in the system; grit can accumulate and cause inefficiency in all stages of the wastewater process. Since the projected grit that would be removed over seven years (889 tonnes) exceeded the amount removed from digesters it was shown that the removal of rag and grit at the pre-processing stage would both prevent unnecessary abrasion and wear and increase dewatering effectiveness at the decanter stage, and also maintain optimum capacity in tanks for longer, significantly increasing the time period between digester cleanouts.
"What is clear is that the problem of grit does not need to be tolerated by operators," reads the CDEnviro report on the project. "Effective separation and removal of grit from sludge at an early stage is possible and essential for avoiding damage and wear on the complete treatment system."
A full report on the project is available to download at wwtonline.co.uk/downloads