Excess floating sludge problem solved
Siltbuster Process Solutions (SPS) has solved the problem of excess floating sludge at Wessex Water's Compton Bassett sewage treatment works in Wiltshire.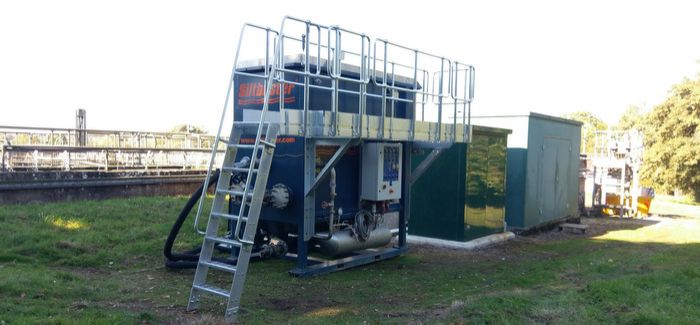 By temporarily installing one of its Dissolved Air Flotation (DAF) units at the site, SPS has used its equipment to remove the sludge before it reaches the plant's downstream processes, making the site cleaner and easier to manage and ensuring the site meets its discharge consent standards.
The Compton Bassett plant treats domestic sewage from the nearby town as well as periodically taking waste from a nearby domestic waste recycling centre with onsite waste washing and cleaning facilities. This waste can have a high concentration of ammonia and, during periods of peak discharge, the process of de-nitrification causes excess sludge to rise which then floats on the surface of the primary settlement tanks.
As the floating sludge can block the plant's downstream processes, its removal is vital to maintaining an efficient operation and ensuring suspended solids consent limits are met. To solve the problem before it occurs, SPS installed its mobile D25 DAF unit between the inlet screen and primary settlement tanks, enabling it to treat an average flow of 30m3 of water an hour.
Mike Neal, Wessex Water's site project engineer, said: "By using SPS's DAF unit to remove the floating sludge, we were able to reduce the load on the biological treatment plant so it could work more efficiently and effectively. Importantly, the process has enabled us to mitigate any potential risk of breaching our strict discharge consent standards."
Phil Bates, SPS municipal sales manager, said: "By hiring one of our modular, mobile DAF units, Wessex Water was able to quickly and easily deploy our system without needing to make a capital investment decision. Thanks to our technical experts' consultative approach, we have worked with Wessex Water's team to successfully manage what was fast becoming a potentially serious issue at the Compton Bassett site, meaning it could continue to operate at optimum levels."