EIB funding helps Welsh Water's green energy strategy
Dwr Cymru Welsh Water has secured a £250M loan facility with the European Investment Bank (EIB) to help finance its extensive capital expenditure programme as well as plans to further develop renewable energy generation capacity at its sites.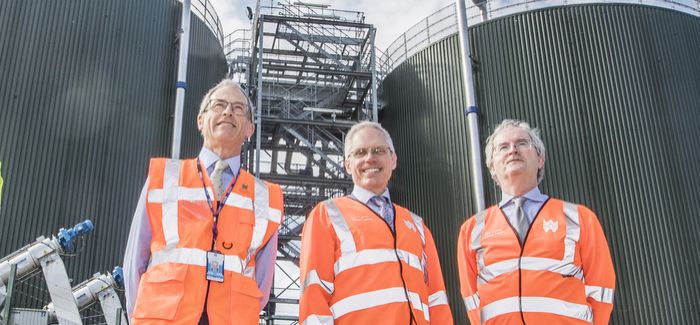 L-R: Alistair Lyons, chairman; Peter Bridgewater, finance and commercial director; and Jonathan Taylor, EIB vice president
The company has reached a key milestone in its drive to cut carbon emissions by ensuring that its sites across Wales and Herefordshire are now powered by green energy. It already generates its own energy from renewable sources but a new energy contract with DONG Energy will ensure that energy Welsh Water uses from the grid will also be guaranteed green energy. 
The move to secure green energy is a major step forward for the company which has an annual energy bill of more than £44M - the majority of which is used for pumping water and wastewater through thousands of miles of pipes.  To help it reduce its energy costs, the company already generates 20% of its own energy needs through wind, hydro, solar and advance anaerobic digestion. It aims to increase this to 30% by 2019.
To see first hand how Welsh Water will make use of the loan to invest in renewable generation, the EIB visited the company's Five Fords wastewater treatment works in Wrexham. Welsh Water is investing around £36M to transform Five Fords wastewater treatment works into an innovative energy park - incorporating solar and hydro and the UK's first project to inject bio-methane gas into the national gas distribution network.  The company is also developing an advanced anaerobic digestion plant on the site which once complete will use the waste the site treats to generate enough energy to supply around 3,000 homes.   
The loan will enable the company to deliver its record £1.7bn investment programme between 2015-2020 to invest in its assets for the benefit of customers and the environment. It will also allow the company to do this while keeping bills low for customers and fulfil its commitment of a decade of below RPI-inflation price increases on customer bills by 2020.
Welsh Water has benefited from loans of more than £800M from the EIB since the inception of Glas Cymru in 2001. This has helped finance more than £1.6bn of capital expenditure in improving water and wastewater services across its operating area.
Peter Bridgewater, Welsh Water's finance and commercial director, said: "As a company without any shareholders, our sole focus is on providing the best possible service to our customers at the most affordable price. To deliver this, we must manage challenges such as accessing funding for our investment programmes at a competitive rate as well as continuing to drive down costs as we make the company more efficient. We are therefore delighted to have secured this loan facility as it helps us deliver higher investment and lower bills for our customers."
Steve Wilson, Welsh Water's managing director of wastewater services said: "We are delighted to begin our contract with DONG as it secures green energy for the next five years while offering good value for our customers. We've significantly increased the amount of energy we generate at our sites over the past few years by embracing technologies such as solar panels, hydro turbines, anaerobic digestion and our first wind generation sites in the past 12 months. By incorporating these sources with the green energy we now receive from DONG, we really are able to make a meaningful contribution to protecting our environment from the effects of climate change."
Jonathan Taylor, EIB vice president, said: "Here in Wrexham, Welsh Water is showing the world how investment to improve wastewater treatment can harness renewable energy from diverse sources. Pioneering innovation such as this is crucial to cut emissions and ensure that companies can contribute to climate action. The European Investment Bank is pleased to have supported this and other transformational investment by Welsh Water."