Canadian town's tap water turns pink
A chemical used during routine flushing of lines has been blamed for drinking water from taps turning bright pink earlier this week in the Town of Onoway, located in central Alberta, Canada.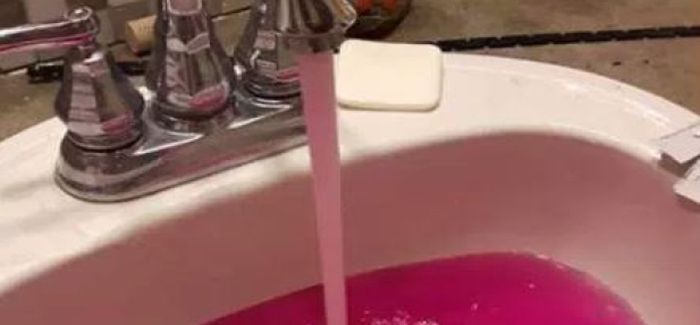 Picture: Facebook
The town's mayor, Dale Krasnow, had to apologise to its 1,000 residents following complaints that drinking water from taps had turned pink. Residents took to social media saying there should have been a warning issued on the town's website to let them know whether the pink water was harmful. 
In a statement Krasnow said the strange colour was caused by a chemical used during routine flushing of the lines and was not a cause for concern. "…during normal line flushing and filter backwashing, a valve seems to have stuck open allowing potassium permanganate to get into the sump reservoir. The reservoir was drained, however some of the chemical still made it into the distribution system.
"While it is alarming to see pink water coming from your taps, potassium permanganate is used in normal treatment processes to help remove iron and manganese and residents were never at risk.
"We were never advised by Alberta Environment to issue a public advisory and all indications are that there was never a public health risk. Could the town have done a better job of communicating what was going on yesterday to our community — absolutely, without a doubt. And we do apologise for that."
Alberta Environment inspected the water lines on Tuesday and all necessary repairs and maintenance were expected to be completed by the end of the day.