British company works on world's biggest gate valve
A British company has designed and manufactured the world's largest ever gate valves for a huge pipeline project in Texas, USA.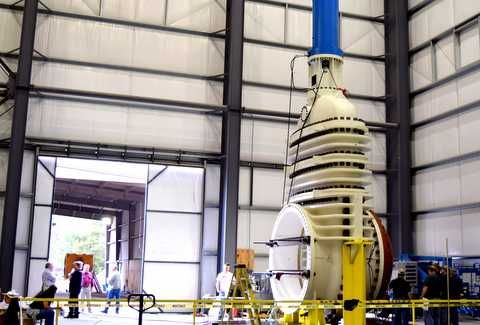 The first of the enormous gate valves has been installed in Texas
Yorkshire-based Blackhall Engineering Limited was asked to produce 100-year asset life valves for the $2BN Integrated Pipeline Project being jointly carried out by Tarrant Regional Water District (TRWD) and Dallas Water Utilities (DWU).   
The project aims to increase the water supply to metropolitan Dallas by 350 million gallons per day (1.59 billion litres per day) meeting the ever increasing demand in the long term. It involves the construction of 150 miles of pipeline extending and integrating from multiple lakes, and the construction of 3 Lake Pump Stations and 3 Booster Pump Stations. Blackhall Valves are playing an essential role on this mega project by regulating the water in the largest and longest segments of the pipeline.
This involved the design and manufacture, for TRWD, of High Pressure DN2800 / 108 inch Parallel Faced Metal Seated Gate Valves – believed to be the World's Largest Gate Valves - weighing in at over 100 tons and standing a majestic 40 feet tall.
Blackhall Engineering has embraced advancements in computational technology for the development of their products, and the parallel faced metal seated gate valves are an excellent example of a product that has been designed with these advancements in technology.
Along with the theoretical knowledge and empirical data, Finite Element Analysis (FEA) has been used to simulate and to predict both the structural behaviour of the valve during its operation, and its capability of sealing under various flow and pressure conditions. The geometry of the components have been optimized for enhanced stress distribution. The FEA results were validated by performing Strain Gauge testing on the valve.  The design of the valve also incorporated external loading factors, for example Computational Seismic (Modal) Analysis that was performed to ensure the sustainability and robustness of the valve during earthquakes & such events.
An Advanced Casting Simulation Programme was then employed to optimise the casting process to ensure the castings manufactured were free from any residual stresses that could potentially develop during the solidification of metal. This prevents any over stressing of the components during operation and helps in ensuring the prolonged life of the valve.
The first valve to be installed on the pipeline successfully passed all hydraulic tests, and five further valves are currently in production for the scheme, with design taking place in the UK and manufacture in the USA.
James Blackhall, Managing Director of Blackhall Engineering, commented: "It has been a joy working with TRWD. Both engineering teams have worked exceptionally closely, with a true sense of purpose, to deliver this legacy project."