Bluewater Bio celebrates biggest ever HYBACS installation
UK water treatment specialist Bluewater Bio International (BBI) has the celebrated biggest ever installation of its HYBACS system, in Bahrain. The upgrade of Tubli water pollution control centre (WPCC) was launched on December 9, 2013 with a prestigious ceremony, following the installation of 42 Smart HYBACS units.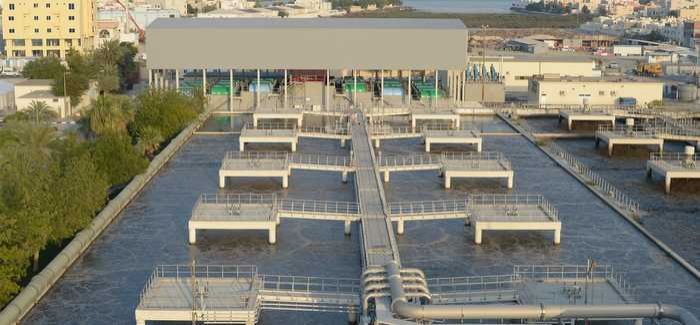 Tubli wastewater plant: the HYBACS installation can be seen at the rear
The £12.9M process upgrade has increased the loading for the 800,000-population-equivalent plant by 150% compared with the original design. The project was implemented in two stages to meet the client's continuous treatment requirements and the HYBACS plant is now treating 100,000 of approximately 350,000m3/d incoming flow to Tubli.
The project involved converting two of Tubli's ten existing aeration lanes and four of its 12 clarifiers to the HYBACS process, with 42 Smart units positioned upstream of the existing two aeration lanes. The 100,000m3/d excess flow was diverted from the existing preliminary treatment works to the HYBACS plant, increasing the overall loading by 150%.  
Daniel Ishag, founder and chief executive of BBI, said: "At 42 Smart units, the HYBACS upgrade at Tubli Bay represents a watershed moment for Bluewater Bio, and one which steps us up a gear on the global stage.  I am personally thrilled with the effluent quality results at Tubli to date, and the strong feedback we have received from the Ministry of Works."
The project delivery partners included German engineering company P2M, Guernsey-headquartered AquaTreat, UK Trade & Investment and local contractor Atlas Transport Contracting & Mechanical Services.