Bespoke pH adjustment system used at Midlands reservoir
A bespoke pH adjustment system has been used to treat 46 megalitres of alkaline water created by a large-scale upgrade project at a Midlands reservoir.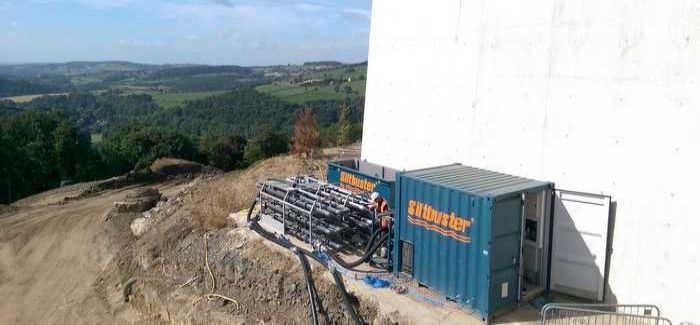 The Siltbuster system in place at Ambergate Reservoir
Severn Trent Water's Ambergate Reservoir serves customers throughout the East Midlands, but with much of its infrastructure dating back over 100 years it is approaching the end of its design life. As a result, a major four-year upgrade is currently underway.
Part of the upgrade work entailed filling chambers in the newly constructed reservoir with highly alkaline (pH11) lime water to induce crystal formation within the fine cracks that occurred during the curing of the concrete structure.
The Laing O'Rourke/ NMC joint venture team working on the project approached process solutions experts Siltbuster to create a system capable of treating the extremely large volume of water used.
The bespoke containerised pH adjustment system created by the company was used to treat 46 mega litres (46,000 m3) of alkaline water at rates of up to 750m3 per hour and cleaned to the highest standards, enabling it to be discharged into a nearby surface watercourse.
With limited space on site and tankering of the water off-site not an option, Siltbuster created a bespoke system designed to take a side stream of the 400m3 per hour water and saturate it with CO2 to neutralise the pH. Under pressure, the fully saturated water was injected back into the mainstream of water allowing the full 400m3 per hour to be neutralised before being discharged. The system was recorded as treating circa 740m3 per hour of the high pH waters, which significantly reduced overall dewatering time. 
Tristan Hughes, Siltbuster's Regional Sales Engineer, said: "Creating bespoke systems to address specific issues is a core part of what we deliver for our customers.  This project involved the treatment of extreme flow rates so we had to build a system able to cope efficiently and effectively with a very high volume of water.  We successfully achieved that while also delivering environmental and commercial benefits."