Amey completes Liverpool sink hole repair
Amey has completed repair work to the Edge Lane sink hole in Liverpool. Working on behalf of United Utilities (UU), Amey engineers took just six weeks to repair the extensive hole, which was caused by a collapsed Victorian sewer 8m below the road. At its widest point, the hole measured 6m wide and 3m deep.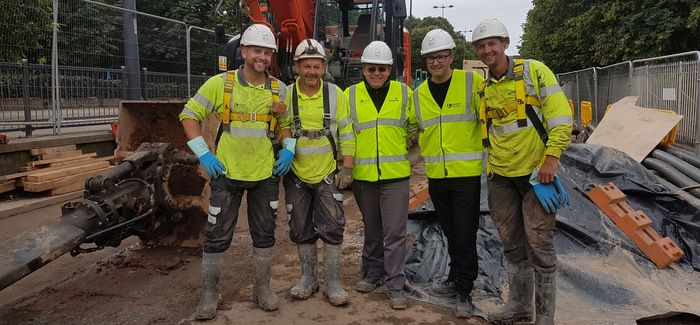 The collapse was reported to UU on June 29 and a team of Amey engineers were quick to respond, diverting traffic, securing the area and stabilising the busy dual carriageway within one hour.
Engineers began by digging down to the sewer, working around and securing a 600mm wide water main that feeds 5,000 properties in the Liverpool area. The team also worked closely with other utility providers to shut off a gas main supply that had been fractured during the collapse and divert electric cables which fed a CCTV camera close to the site.
A temporary overland pipe with several pumps was set up to bypass the damaged section of sewer which allowed for wastewater to be removed from UU customers' properties as normal.
At this point the excavation work could begin, but it was not until the team reached the sewer that the true scale of the damage was discovered: that the 1.2m diameter sewer was continuing to collapse along the road. This meant having to excavate along the path until they reached the next stable section of the sewer where repair work could start.
In total, 15m of brick, egg-shaped sewer pipe was discovered to be damaged. This was replaced with a new concrete ovoid pipe that not only strengthened the damaged section of sewer but also meant the team could speed up the repair process. Work concluded on August 11
Amey's UU wastewater account manager, Zak Haworth, said: "A job of this magnitude and complexity would typically take approximately four months to repair and restore but with the drive and dedication of our skilled and experienced Amey teams working endlessly - 24 hours a day, seven days a week in shifts - we were able to significantly speed up the repair and reinstatement of the carriageway. Halving the normal repair time! The Edge Lane carriageway is now fully open just six weeks after the collapse occurred. Our operational and management teams have done a fantastic job in collaboration with the local authority and other utility companies affected. involved to ensure the work was completed safely and effectively in such a short space of time."