Taking the buffering out of monitoring
Yorkshire Water continually monitors water from its 59 treatment plants with samples taken from 363 reservoirs. With the help of ATi, the company has now implemented a bufferless chlorine monitoring system.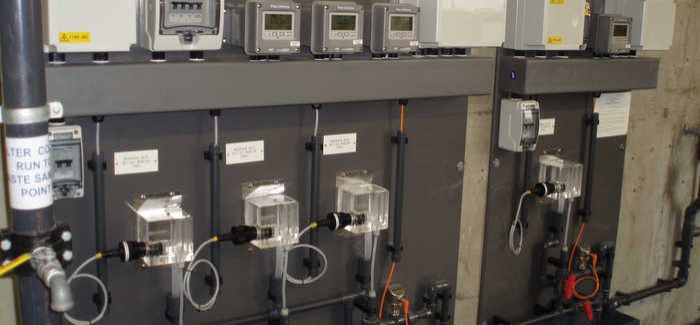 ATi designed bespoke single- and triple-validation boards
Chlorine is the most widely used disinfectant in domestic settings. However, it is also used in industrial settings for the purification of water. It is used to destroy agents that can cause disease, such as viruses or bacteria, and therefore pose a risk to human health. It also leaves a residual that can be controlled and measured to monitor chlorine levels. Despite its main function as an effective water purifying agent, chlorine is also useful for other purposes in water treatment plants, including the removal of iron and manganese, bleaching of certain organic compounds and prevention of algae growth.
Chlorine monitoring is of great significance to water management and supply services as chlorine also has its associated drawbacks. Excessive levels of chlorine in drinking water or water used for washing can have an effect on the respiratory system and can also cause taste and odour problems.
In July 2011, Analytical Technology was awarded a framework agreement to supply and install 450 chlorine monitors to Yorkshire Water as part of a new bufferless chlorine monitoring system – the first complete company-wide asset replacement programme of its kind.
Environmental impact
In order to provide its 4.8 million customers with high quality drinking water, whilst also ensuring better savings during a tough economic climate, Yorkshire Water decided to replace its outdated and inefficient buffered amperometric systems, which it had previously spent around £250,000 a year on in reagents alone.
Yorkshire Water made a requirement of supply that, wherever possible, the new system be free from the use of chemical buffering, traditionally associated with such measurements. The Yorkshire Water view is that acetate and phosphate buffers are expensive, present health and safety issues and are environmentally unfriendly. Buffer delivery systems are also maintenance-intensive and reagents are costly. By avoiding the use of reagents wherever possible, Yorkshire Water sites could achieve huge operating cost savings and reduce its environmental impact.
The results demonstrated that ATi's Q46H Residual Chlorine Monitor offered the most accurate, efficient, reliable and cost effective system.
A further evaluation period followed to assess the most appropriate solutions for the varying water types. ATi's bufferless chlorine monitors were tested using a wide variety of water types at four water treatment works in Elvington, Embsay, Keldgate and Langsett.
This trial established that the monitor's membranes would not need replacing for at least six months in most applications, and in some cases 24 months. The exceptions were a small minority of Yorkshire water sites that had very high manganese levels.
ATi, working closely with Yorkshire Water's water quality scientists and project managers, did identify a few sites would need to be buffered. A combination of unusually high pH, large pH swings and high iron and manganese concentration issues were the contributory factors in the selection process. Around 10% of the installations run with buffer. The ATi monitors, however, uses a very small amount of reagents, 25l/year compared to 25l/month with the incumbent systems, due to the unique low volume flow cell in the new technology.
Quality practice
ATi supplied and installed 450 Q46H62 free chlorine monitors, which have been engineered to overcome the traditional issues associated with buffered amperometric monitors. The monitor features a variable water quality pH correction algorithm that allows the monitors to be deployed in processes that derive their raw water from all types of sources, rivers, boreholes and surface water.
The standard ATi pH sensor is designed to work over a very wide range of conductivities reducing any pH errors. Around 50 Q45H79 Total Chlorine monitors were also supplied to the sites with high and varying pH and high iron and manganese levels. These monitors provide the same accuracy and reproducibility as the free chlorine monitors.
In order to provide Yorkshire Water with the most efficient and effective system, ATi designed bespoke single and triple-validated chlorine monitoring boards that were installed on every sample point throughout the process, to ensure full disinfection control in accordance with their best water quality practice.
The final phase of ATi's framework agreement was successfully completed in May 2013, with 103 chlorine monitors installed throughout sites in the South area. This included a mixture of buffered, bufferless and pH corrected units, which were deployed depending on water quality and expected pH range.
These monitors were installed into a total of 52 water treatment plants and nine secondary chlorination sites throughout Yorkshire Water.
Alan Henson, project manager at Yorkshire Water, says: "Now that the roll-out is complete, the scheme has realised around £336,000 of Opex savings per annum, and operators will no longer have to manhandle 25l containers of buffer around our sites. The monitors also run without reagent in the majority of installations, resulting in cost savings and Analytical Technology has tailor-made a solution to fit our needs rather than just supplying a monitor.
"The criteria we used to trial the monitors focused on reliability, accuracy and cost effectiveness. Analytical Technology was able to supply us with instruments that have met these criteria and also offered us additional benefits."