Safeguarding the security of the water supply
With future demand projections rising and ageing infrastructure, Atkins' operations director - water networks, Guy Ledger assesses the priorities for securing resources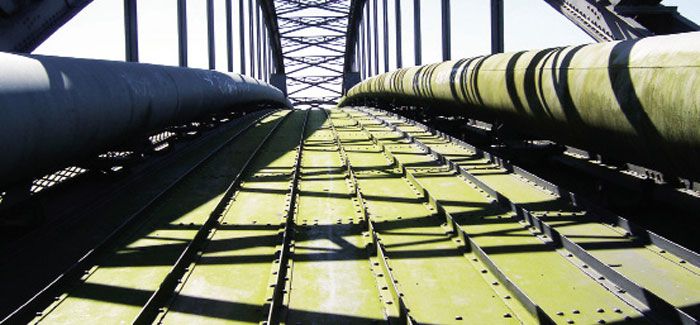 The Sawley pipe bridge, which spans the River Trent, is part of Severn Trent Water's strategic grid
As water companies start preparing for AMP6, priority will rightly be given to the challenges posed by a fast growing population: how best to balance supply with future demand projections and the most cost efficient strategies for dealing with ageing infrastructure.
However, there is another issue that the sector often undervalues; strengthening infrastructure against network failure and the consequences of interruptions to supply.
In recent years, extreme weather events have highlighted substantial vulnerabilities in our water networks. In the US in September 2011, tens of thousands of people were left without water or power as flood water from hurricane Irene inundated power stations and water sources.
Around 330,000 people were left without water in Tonghua in North-east China's Jilin province in 2010 when torrential rain swept away four main arterial water pipelines that supplied the city. Closer to home in 2010, an extreme cold spell followed by rapid thaw caused an unprecedented number of leaks and burst pipes in Northern Ireland. Some parts of Belfast were without a water supply for more than six days. And, when extreme floods inundated the Mythe water treatment works near Tewkesbury in 2007, around 350,000 people went without water for 17 days.
Connectivity
Arguably, many of these events could have been mitigated if more flexibility and better connectivity had been built into the water networks. However, opportunities to enhance resilience have, until recently, not been made a priority. There are understandable reasons for this. The complexities of water supply networks have not always been fully understood and the risks and long-term benefits of resilience schemes have been difficult to quantify.
But now that there is broad scientific consensus that extreme events will become more frequent, the need to be proactive is more urgent than ever. With the introduction of the Service Incentive Mechanism, water companies are under increasing pressure to improve the quality of their service.
Events at Tewkesbury and in Northern Ireland provide powerful local examples of the human and commercial cost of network failure. A catastrophic event can cause untold damage, not only to the physical network, but also from a public relations and customer relations perspective. The incident at Mythe has already been a catalyst for change. Several water companies included resilience schemes within their AMP5 business plans, which were effectively sanctioned by Ofwat.
However, with climate change already affecting many parts of the world, time is not on our side. The UK water sector needs to be more proactive in assessing the risks and consequences of interruptions to supply if it is to avoid events such as those mentioned above.
Assessing risk
Encouragingly, our potential to understand the resilience of water networks has improved considerably in recent years thanks to significant improvements in data gathering and analysis. Water companies' GIS databases fully represent their underground assets and pipe networks, with flow and pressure monitoring systems becoming more sophisticated and widespread. The proliferation of data has made it possible to build network models to a higher level of detail and accuracy. It is now possible to model an entire supply and distribution network and to examine problem scenarios with a greater degree of confidence. To build an accurate picture of risk, I believe it is best to take a multidisciplinary approach, assembling integrated teams of experts that include, for example, water resources engineers, hydraulic analysts, civil engineers and, if necessary, reservoir specialists.
Bringing all the relevant skills together enables a more in-depth understanding of the interaction between all the issues and the complexity of the system. It can also result in more creative thinking and smarter solutions. Where a team has the in-house expertise to break a scheme down into individual components, it is able to see the detail and fully consider all the issues, while retaining the bigger picture overview. At times this approach enables a more rigorous challenge of the original concept and allows alternative solutions to be determined with considerable long-term cost savings for clients.
Putting plans into action
Enhancing the resilience and flexibility of water infrastructure can be achieved in three ways: maintaining and protecting existing assets; enhancing network connectivity and using telemetry, communications and instrumentation in a smarter way.
Asset maintenance and protection: fragile sections of infrastructure can be modelled to assess how much risk they would pose in the event of failure. In critical areas, we should duplicate assets, for example putting in parallel pipes, or drawing up a more robust maintenance programme.
Connectivity: when working with water sector clients that have been badly affected by drought, we have found solutions to optimise the existing connectivity of the network, enabling water to flow from an area of surplus to an area of need. Measures include changing the way that pumping stations operate so that greater volumes of water can be moved through the system and also improving the hydraulic capacity of the network, for example by identifying and addressing hydraulic restrictions caused by longstanding network anomalies.
Telemetry: sudden, unexpected changes in flow and pressure could indicate a major problem. We should introduce system controls that could quickly alert operators to potential problems and swiftly shut down parts of the network, or invoke alternative modes of operation. This would move us from using customers as a means of raising the alarm, to being more proactive and able to more rapidly rectify an issue before the customer becomes aware of the problem.
Inspiration for innovation
The water sector has reached an exciting point in understanding how it can enhance and manage risk – and there are many more opportunities that may be opened up by technological advances in sectors such as highways, rail, oil and gas or nuclear power. Could we learn from the real time systems that monitor and regulate traffic flow on the M25? Could rail signal technology enhance network communications?
Water companies can no longer afford to ignore the necessity of increasing network resilience. By adopting a multidisciplinary approach and embracing new technology we can develop smarter solutions at a lower capital cost.
The UK has some of the most advanced models in the world. It is vital that we continue develop these models – and use them to their full potential - on our path towards securing a more resilient network to meet the challenges of the future.