Project Focus: Relocated lab aids business expansion for South East Water
South East Water Scientific Services recently completed a relocation to new 2,800 square metre laboratory facilities in Farnborough, Hampshire, which will allow an expansion of its water quality and testing operations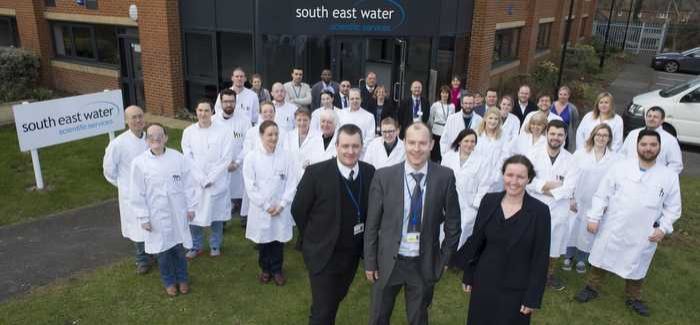 Staff outside the new laboratory in Farnborough
by James Brockett
South East Water's water quality and analysis arm is set for expansion after the relocation of its laboratory to state-of-the-art new premises.
South East Water Scientific Services moved late last year from its former home in Frimley Green, Surrey, to a new 2,800 m2 (30,000 sq ft) purpose built laboratory in Southwood Business Park, at Farnborough in Hampshire.
As well as a significant project to design and build the new laboratory, the move involved a major logistical exercise to transfer equipment to the new facility while maintaining essential testing services, with each of the laboratory's 57 analytical processes having to be revalidated by accreditation body UKAS. This was completed in January this year when assessors gave the new laboratory their seal of approval following a five-day visit.
Extra capacity search
More than 70 staff at South East Water Scientific Services operate its laboratory 24 hours a day, 365 days a year. Covering the full range of expertise in microbiology, parisitology, and chemistry, the lab carries out over 500,000 tests annually for South East Water and more than 250,000 for other commercial customers, which include other water companies, blue chip businesses, environmental health organisations, private water suppliers and building maintenance companies.
However, the company had outgrown its previous premises at Frimley, with no space available to support its ambitions to expand capacity and the amount of commercial testing it can take on.
In summer 2014 it therefore began the search for new premises. The company focused its efforts on a 20-mile radius from the existing site in order to ensure that it retained as many of its skilled staff as possible. By August of that year it had settled on the former office building in Farnborough, conveniently located for the M3. With an open, warehouse-like layout the building required extensive interior construction work in order meet the company's needs; however this provided an opportunity to design the layout of the new laboratory from scratch, without having to compromise on anything in the desired facility.
Construction work started in January 2015 with a new floor being put in to create a mezzanine level, followed by the walls that would delimit individual rooms and departments. A great deal of thought needed to go into the positioning of the features that would create the perfect laboratory environment, including the air conditioning system, refrigeration facilities, equipment to make and supply deionized water, and the storage of the gases needed to run many of the specialist processes. Key features of the design include a central main corridor allowing every individual testing room to be accessed easily, and a large refrigeration room near the centre.
Sampling transfer
By June 2015, with the construction phase finished and room fittings in place, the company could begin the task of moving sampling equipment across to the new facility. With each machine needing recalibration before it could be used and many pieces of equipment being extremely delicate and valuable, specialist contractors were engaged for this effort.
It was essential to ensure continuity of testing during this process. For this reason, staff were divided between the new and old facilities and some extra staff hired on a temporary basis. For processes where two or more pieces of the same equipment were owned, one was transferred across to Farnborough while the other remained at Frimley for an interim period; in other cases, new equipment was purchased to replicate the Frimley process. Where necessary, work was passed on to other labs to maintain continuity of service until the new processes were up and running.
The Drinking Water Inspectorate and UKAS kept close tabs on proceedings, visiting the new facility at the planning stage, at the point of first testing and at the final stage when testing work began in earnest.
All equipment was installed at Farnborough by October 2015, which enabled the full UKAS accreditation to take place. Each of the 57 processes needed to be checked and over 170 testing parameters validated by the external assessors in a painstaking manner before final approval was granted in January 2016.
With a total floor space that is around 50% greater than that at Frimley, and each department having some spare room capacity, there is now plenty of scope for expansion and the company anticipates taking on extra staff as it grows its business.
Growing business
Organic chemistry is one of the growth areas for testing from water companies, with an increased focus on upstream catchment work meaning that more testing is required for pesticides and related substances in raw water sources, in addition to the more routine regulatory and operational tests at treatment works. In microbiology and parasitology, the laboratory will have more capacity to step up large-scale additional testing when it is required, for example in response to incidents such as the cryptosporidium outbreak in the north-west of England last year. With a fast turnaround time being essential for microbiological and parasitic tests, the investment in new facilities should ensure the company is able to maintain its speed as well as its accuracy.
SE Water Scientific Services also hopes that in time the project will enable it to double the amount of commercial non-water company work it can do. This includes the testing of private water supplies from wells and boreholes, legionella testing for commercial water systems, and the testing of water for agricultural, pharmaceutical or industrial uses.
The UKAS assessment commended scientists at the laboratory for their analytical excellence, motivation and enthusiasm, with their analysis being measured against strict international quality standards and drinking water specifications.
Richard Brown, Laboratory Manager at South East Water, said: "UKAS accreditation is an important accolade for the company and we are delighted to get great feedback from the assessors about our performance over the last 12 months.
"Our latest assessment comes on the back of an important year for the team at South East Water's Scientific Services as we have completed the move into our new state-of-the-art laboratory here in Southwood, Farnborough. Holding UKAS accreditation means our customers can remain assured they are receiving top quality drinking water from their taps and it confirms we have high quality testing systems in place to make sure it stays that way."
Jon Murthy, Marketing Manager at UKAS, said: "Congratulations to everyone at South East Water's Scientific Services on their achievement. The Drinking Water Inspectorate makes it mandatory for laboratories carrying out the analysis of drinking water to be accredited by UKAS.
"The assessment process is rigorous and independent, underpinning both customer and regulator confidence across a wide range of industries."
Dr Neil Hudson, Head of Water Quality at South East Water, said: "Our core expertise is in meeting the many regulations that go with providing drinking water, and going above and beyond to interpret results and give an in-depth understanding of what they mean. With a new lab that is 50% bigger in terms of floor space, not only can we excel at this but there is also extra capacity to do quite a lot more external work, in environmental health, building water systems and other water-based markets."