Research Notes: Rapid, low cost water quality assessment for all
Real-time water quality testing would be a significant step forward for water treatment and public health, both in the developed and developing world. Researchers at the University of Birmingham are developing an optical instrument which uses fluorescence to give a rapid, in-situ indicator of quality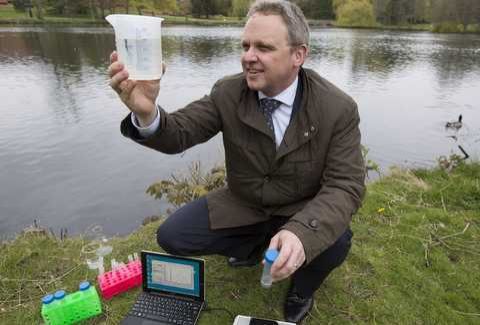 Professor Bridgeman with the Duo Fluor device
by Professor John Bridgeman, Head of Civil Engineering, University of Birmingham
The issues associated with limited access to safe, reliable water supplies are well-documented, and yet microbiological waterborne disease remains a significant concern for the global community. Pathogens in drinking water sources cause ill health, hindering sustainable settlement development and disproportionately affecting the poor.
Despite the efforts of those responding to the UN Millennium Development Goals, there are still 663 million people without access to safe drinking water supplies and 2.4 billion have no access to improved sanitation services.
A primary concern for water utilities worldwide is to ensure that drinking water does not pose an unacceptable health risk to consumers. The number and type of different pathogens present in waters is extensive, varied and dependent on a range of environmental factors. It is, therefore, not feasible to regularly isolate and identify each specific pathogen.
Reliance has traditionally been placed on the measurement of total plate counts, as an overall indicator of microbial load and detection of faecal indicator bacteria and other coliform bacteria for contamination. Although precise, these tests can take more than 30 hours to produce results. In the natural environment, often only 1% or less of microbes can be cultured in this way, leading to what has become commonly known as the "great plate count anomaly".
In less developed countries, the length of time, expert analysis and relatively expensive reagents needed mean the use of such tests in community water management and disaster relief scenarios, such as refugee camps, is problematic and infrequent. Furthermore, these techniques are beyond the reach of those poorest communities in urgent need of drinking water and sanitation improvements. Situations like these demonstrate that rapid science and engineering-based indicators of safe drinking water are essential to reduce poverty and develop sustainable livelihoods. Such indicators are likely to be most widely adopted when delivered as part of a community-based drinking water solution.
In more developed nations, the challenge to ensure microbial quality is addressed by water utilities through disinfection during treatment processes. Using chlorine, ozone, or chlorine dioxide as a disinfectant in water rich in organic matter, which also acts as a microbial food source, can generate potentially carcinogenic disinfection byproducts. Consequently, utilities must manage the competing needs of biological and chemical compliance. It is, therefore, vital that companies monitor the microbial and chemical quality of drinking water at various stages of treated water supply systems, including trunk mains, service reservoirs and the distribution network.
Measurement of both organic and microbial matter currently relies on collection and transportation of discrete samples that then take days to analyse. Such approaches provide retrospective confirmation of water quality.
In-situ real time measurement is, therefore, highly desirable, as it would enable rapid assurance of water quality. For developed countries, this would facilitate optimisation of process control and overall proactive and preventative operation of water supply systems. In less developed nations it would provide first-level screening and safety assessment of an area's water supply arrangements. There is a pressing need for novel technologies that enable real time, in-situ, low powered and, ideally, continuous analysis of drinking water quality.
Focusing on these global challenges, researchers from the Department of Civil Engineering at the University of Birmingham have developed a novel optical instrument, based on fluorescence spectroscopy, to indicate water quality and suitability for consumption almost instantly.
All water fluoresces, although the insensitivity of the human eye to the appropriate wavelengths renders fluorescence invisible to us. Research has demonstrated that water fluorescence is particularly good at identifying faecal contamination. The fluorescence emitted from humic and fulvic substances, fluorescent pollutants such as whitening agents, and microbially-derived intrinsic fluorescence from both cellular material and exudates can all be detected. The advantages of fluorescence include a rapid analysis time, no sample pre-treatment necessary, and a sample volume of only a few microlitres.
We have developed a prototype dual-LED instrument, 'Duo Fluor'. This can detect fluorescence at wavelengths that can be used as surrogates for both microbial and organic carbon presence. We have benchmarked prototype performance against research grade instruments and recorded excellent performance. Our initial work examined the feasibility of using the Duo Fluor as a proxy for organic matter.
The instrument detected fulvic acid at 0.25 mg/l, and could differentiate between deionized water and tap water. Attempting to observe similar differences using standard TOC analysis was less successful, meaning that the Duo Fluor could detect lower levels of pollution than standard TOC analysis.
The response of the Duo Fluor to deionized water, as a clean control, and local pond waters spiked with L-Tryptophan was subsequently assessed. Incremental dosing of Tryptophan into both types of water yielded a steady fluorescence signal response demonstrating the capability to detect a surrogate for microbial presence. (Figure 1)
Duo Fluor performance has also been assessed when continuously measuring the Peak T fluorescence (a surrogate for microbial presence) and Peak C fluorescence (a surrogate for humic and fulvic acids) of pond water spiked with quinine sulphate (QS). It was used to analyse water quality continuously over three distinct phases: 15 minutes of water flowing continuously with no addition of QS; 15 minutes of water spiked with 0.4 mg/L QS, and finally 15 minutes of water spiked with 0.8 mg/L QS. The results are shown in Figure 2 and demonstrate an appropriate and anticipated response in both Peak C and Peak.
Unlike most commercially-available instruments, fluorescence responses can be enhanced by adjusting gain settings. This means it can be set up to provide an accurate comparison among samples as well as allowing the most appropriate sensitivity ranges to be identified for the quality of water being tested.
The Duo Fluor represents a hugely significant advance for the management of water and wastewater systems in both developed and developing countries. It offers multiple potential uses within the global water industry for the rapid, cost-effective and robust indication of:
• organics and microbial matter across a wide range of water qualities (from sewage to drinking water)
• process efficiency at treatment works
• identification of potential ingress into service reservoirs and distribution systems
• disinfection byproduct formation potential
• effluent quality at wastewater treatment works
• river water quality at abstraction points and wastewater treatment works' discharge points
• identification of misconnected sewer discharges.
The equipment is inexpensive and off-the-shelf; furthermore, it allows both expert interpretation of results and simplified pictorial interpretation for use by non-experts. This provides the additional benefit of community empowerment through involving water users themselves in the application of the technology.
With expert advice from Oxfam and funding from the Engineering and Physical Sciences Research Council and the Diageo Foundation, we are now working to refine the instrument design to suit the needs of water utilities in developed nations, and also develop a version that is ideally suited to disaster relief and areas of poor sanitation.
By facilitating the timely detection of unsafe sources of drinking water, the Duo Fluor should offer a reliable technique to help minimize the likelihood of future widespread outbreaks of cholera and other water-related diseases in areas of poor sanitation.