Protecting Your Pumps
With pumps being among a water company's most critical assets, screens and automated trashrakes have a vital role to play in avoiding damage and costly repairs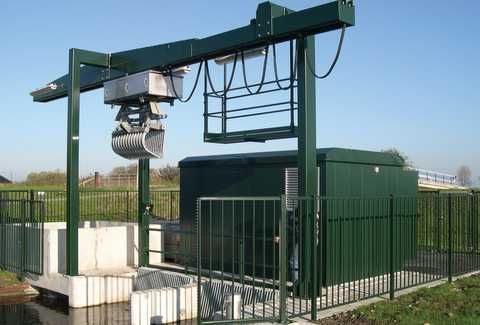 This Bosker trashrake system is an example of pump protection in action
by Mick Burton, Key Account Manager, Jacopa
For water companies faced with the need to closely manage costs while maintaining high levels of service, providing protection for vital pumps is a key issue. Debris from storms or from dumped material can cause significant damage and blockage, leading to long periods of downtime while repairs are carried out. Pumps at water and wastewater treatment works can cost £200,000 or more, so protecting them is critical.
What particular challenges do water companies face?
One of the worst scenarios that a water company can face is the discovery that a critical, major pump has been wrecked by debris, either from storms, or waste that has been inconsiderately dumped.
The range of floating debris that enters treatment works intakes is extremely varied, so all treatment works routinely employ a range of coarse and fine screening to ensure that the key downstream pumps and processes are well protected.
Which assets need to be protected and how?
Typically, first in the 'firing line' are the very large, system-critical pumps at inlet works, either centrifugal models which are used to abstract raw water (at water treatment works) or centrifugal, screw and other designs employed to transfer raw wastewater from the deep intakes at wastewater treatment works.
Later in the sewage treatment process, other pumps including positive displacement, rotary lobe and progressive cavity pumps can also suffer blockages and damage from unscreened or poorly screened sewage.
What methods are available?
Raw water intakes often employ manually raked coarse bar screens as primary protection devices typically with bar spacings of 100mm or more, but as the first line of defence they frequently become clogged and require regular cleaning. In the past, this meant operators had to intervene manually to remove debris, a duty much disliked by operatives.
However, automation is now available to assist which is safer and more efficient. Many treatment facilities have therefore adopted mechanically automated and cleaned bar screens which in addition to avoiding the much hated manual cleaning have a higher screening capture rate with improved flow conditions through the screen.
At sewage treatment works and sewage pumping stations, chain raked bar screens may be fitted as an alternative. However, such designs often struggle to remove large and awkward debris such as rag, fat and other larger debris which collects at the screen and can put extreme load on the equipment causing it to overload or fail and require manual intervention.
What can a trashrake do that other systems can't?
A trashrake can pick up and remove even the most challenging debris preventing awkward floating debris from progressing further into the works and damaging fine screens and expensive pumps. Trashrakes can also help to protect the fine screens beyond and the whole range of other treatment works processes, all of which would be vulnerable to rags and large debris.
Systems can usually be readily retrofitted to a treatment works, intake or pumping station, minimising the work and costs to rebuild or alter civil engineering structures thus helping to meet the industry's need for a cost effective, safe and resilient solution to protect treatment works and pump assets.
Trashrakes also provide an opportunity for treatment works to improve one of their critical areas of focus, health and safety, as the only alternative at large treatment works is manual intervention. Trashrakes can also help to reduce labour costs and improve treatment works efficiency, as they remove the need to shut down key elements of the works to perform maintenance procedures.
The water industry needs robust and effective equipment that is competitive to install and operate whilst aligning fully with the industry's focus on Totex.
How do automated trashrakes work?
Jacopa's trashrake technology from manufacturer Bosker (Machinefabriek Bosker en Zonen BV) has been adopted at a number of water and wastewater treatment plants and other installations across the country to provide a first line of defence against pump damage. The Bosker combines a trashrake, overhead track and debris loading system into one to cut costs considerably. It also provides a complete turnkey solution that works together to collect and dispose of all debris.
Its overhead system has a fully automated grab unit with robust grippers, which can grasp heavy and awkward items such as plastics, grass, glass bottles, timber, concrete and bricks, as well as balls of condensed fat and rags.
Debris is pushed into the gripper's jaws as it cleans to the bottom of the screen, where it closes. A hoist returns it to an overhead trolley – on the way up, there is an option to wash the debris. The trolley and gripper then move along a monorail track that takes them between the intakes and the dump area. The Bosker can collect debris from several pick-up points along its journey, continuing its cycle until the entire set of screens on its route have been cleaned.
The system therefore provides the works with a fully-automated cleaning system that reliably protects the expensive and critical pumps beyond, and also removes the need for manual intervention reducing safety and health risks to operatives and maintenance workers.
The equipment has proved to be robust, enabling water companies are able to protect their vital pumps from damage for many years thereby minimising operational and maintenance costs as well as capital replacement costs. The system can also be pre-programmed with differential level settings, for use in any depth of channel, and can be retrofitted into existing channels with a minimum of modification.
Where are such systems being used?
There are several successful Bosker installations that are currently protecting pumping stations and wastewater treatment works within Thames Water. One high-profile example of its use is the Bosker overhead trash raking system at Thames's Deephams wastewater treatment works in Enfield. Here, two grab units on a duty/standby basis were installed on the works' high-level inlet. This Bosker is cleaning five 11m deep by 2m wide inlets, each of which has bar screens with 100mm bar spacings.
Simple to use and install, the system is very well proven and Boskers have now been installed at over 1200 sites around the world to remove debris and protect expensive pumps. They are being increasingly used because water companies need solutions that are reliable and robust, with low running costs.
What about smaller pumping stations?
As well as the popular larger overhead Bosker, Jacopa offers the mobile Bosker 'Bandit'. This low-profile unit is designed for smaller pumping stations and inlets, and is ideally suited to narrower inlets as it is set on a deck-mounted travel carriage. Two variant types of Bandit rotate through 270 degrees to provide access to dumping sites in awkward locations, and like their bigger brothers, the mobile Bandits are fast and easy to install, needing very little construction work.