Project Focus: Pipeline boosts resilience for Dee Valley Water
Dee Valley Water is progressing well with a £14M pipeline project which will boost resilience of supply and tackle incidents of discoloured water experienced by customers.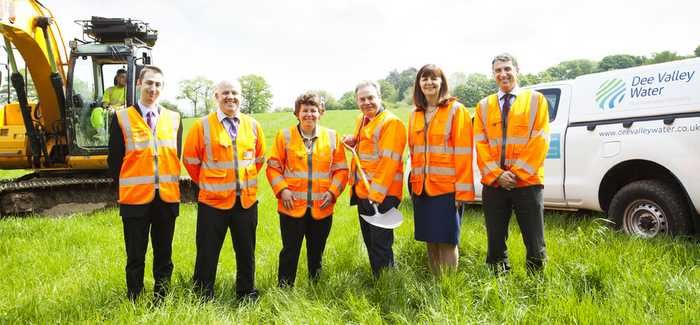 L-R: Oliver Twydell, Stuart Owen (both Dee Valley Water), Susan Elan Jones MP, Ian Lucas MP, Lesley Griffiths AM and Ian Plenderleith (CEO, Dee Valley Water)
Innovations
- Helium testing is being used on the new pipeline when laid, which can zero in on any problems more efficiently than testing with water
- Anchor joints are being used rather than quarried concrete to minimise the carbon footprint of the pipeline's construction
- The project is being delivering using in-house design and build expertise, with local suppliers boosting the economy
by James Brockett
Dee Valley Water is progressing well with a £14M pipeline project which will boost resilience of supply and tackle incidents of discoloured water experienced by customers.
The discoloured water issue is the result of naturally-occurring manganese in the raw water passing through the water-only company's Legacy Water Treatment Works on the outskirts of Wrexham. Over time, manganese deposits can build up in the pipe network, causing discolouration when eventually dislodged. Dee Valley Water had originally planned to rebuild the treatment works to put in additional manganese treatment, but later came up with a new plan which it says is a more outcome-based, resilient and cost-efficient solution.
The new project involves the building of an 8.5km new trunk main which can take high quality water from Llwyn Onn Treatment Works – where manganese treatment using catalysis was installed in 2013 - and put it into the network around the Legacy works. Connections will also be made to Boughton Treatment Works and to neighbouring water companies, boosting resilience by allowing greater transfers of water within the system and bulk imports when required.
"In our review of our business plan last year, we focused on outcomes and Totex in line with the new Ofwat regulatory model, and it led us to challenge whether we really should be rebuilding Legacy Treatment Works," says Oliver Twydell, Head of Quality and Environment at Dee Valley Water. "The estimate for rebuilding Legacy was £17M, but looking at our existing treatment works, we realised that we actually had enough resources not to need Legacy: all we had was the age-old problem in the water industry of how you get the water where it needs to be. So we costed out some network solutions, and when we saw that we could achieve our goals with a £14M project, that's when we really started focusing in on this as the right solution."
Project challenges
In addition to the new trunk main, which will be made of 600mm ductile iron, the project also involves increasing the size of the storage reservoir at Llwyn Onn from 18ML to 24ML, the construction of one new pumping station and the installation of additional pumps at another. The pipeline's route is largely across agricultural land and it will be laid using an open trench method, but directional drilling will be required at a number of key points, as Stuart Owen, Construction Manager at Dee Valley Water, explains.
"We're going to directional drill under the A483 Wrexham bypass and augur bore under the Wrexham to Shrewsbury railway line," said Owen. "We've also got protected trees and hedgerows that we are directional drilling under, and we've got Wat's Dyke and Offa's Dyke, which are protected ancient monuments. We'll need to drill under those too, as we are not allowed to do any excavation work within a 100m exclusion zone around them."
"Another challenge, from an ecological point of view, is that North East Wales has the largest Great Crested Newt population in Europe, and we are laying through certain sections of that. So we've taken a three-tiered approach of risk mitigation: we've got red zones which require a large amount of newt fencing and ecological supervision, down to amber and green zones with each tier having less stringent control measures associated with them." At the end of the scheme the company will also be putting in additional newt ponds near Llwyn Onn to fulful environmental requirements against the destruction of habitats, he added.
In-house expertise
Dee Valley Water is carrying out the design and build using in-house expertise, with an extra five people hired specifically to work on the project and a ten-person team overall. The only aspects that have gone out to external contract have been the specialist directional drilling and excavator hire, while ecological and archaeological consultants have also been engaged.
The utility is also embracing innovation by using helium testing on the newly-laid pipes, in a method developed by Suez Environnement. This method, which uses a mixture of helium and compressed air, is an improvement on water testing as it not only tests that the pipes are watertight but also pinpoints the location of any weaknesses which would cause leaks.
The work began in May and will run through to December 2017, when Legacy will be decomissioned. To complement the new infrastructure, Dee Valley is carrying out an extensive mains cleaning operation, using the 'ice pigging' method, to rid the pipes of the residual manganese. These measures, in addition to the upgrades already carried out at Llwyn Onn and Boughton, have already reduced the number of discoloured water complaints down from 4.9 per 1000 customers in 2013 to 1.32 in 2015. The further improvements should allow the company to reach 1.01 complaints per 1000, which is the level at which it will be rewarded under its Outcome Delivery Incentive agreed with Ofwat.
In terms of resilience, the company says that once the new main is installed it will be able to supply 19% of its total daily demand by transfers if needed, up from 12% previously. The new network will also be able to make maximum use of its impounding reservoirs and will have a reduced requirement for pumping water from the River Dee. On a Totex calculation over 40 years, the company believes it will save £7.5M compared to the alternative if Legacy was still in operation.
Summing up the importance of the project, Dee Valley Water CEO Ian Plenderleith said: "We have worked closely with our stakeholders and Customer Challenge Group to ensure that the alternative plan offered a better solution to our customers and we thank them for their support in this process. Overall, the plan forms part of our longer term vision of a simpler, high quality, reliable supply for our local customers.
"This is good news for our customers in the Wrexham area. The first phase of the scheme is the installation of the new main providing a logical and cost-effective solution to a problem which has affected some customers for too long."