Interview: Patric Bulmer, Head of Environment Strategy, Bristol Water
Patric Bulmer, Head of Environment Strategy at Bristol Water, talks to WWT about Bristol's status as European Green Capital 2015 and the difference it has made to environmental and water initiatives in the city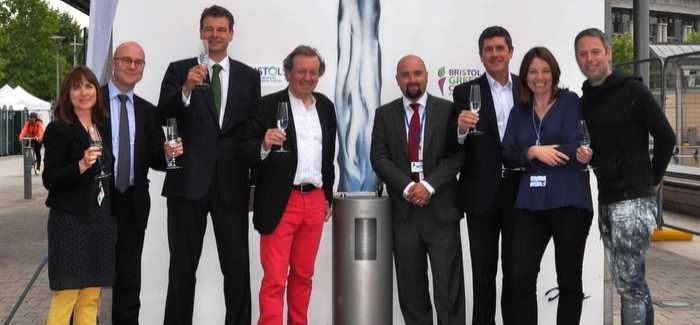 Patric Bulner (third from left) at the opening of the drinking fountain in Bristol's Millennium Square
Patric Bulmer - CV
- Patric Bulmer has a BSc in Geochemistry and postgraduate qualifications in water and environmental management; a chartered environmentalist, he joined Bristol Water as a water quality scientist in 1991
- He was Bristol Water's first Environment Manager when the role was created in 2008. Now Head of Environment Strategy, he is responsible for the overall environmental performance of the business, including the strategic planning required to meet the company's key "Environmentally Sustainable" business aim.
- Bulmer chairs the European Green Capital Water Network Water Group in Bristol, which includes representatives from the Environment Agency, Bristol City Council and Wessex Water, as well as engineering firms, consultancies, local businesses and third sector groups.
- He is also an executive member of Climate Southwest, a board member of the Rockefeller Resilient Cities Sounding Board, and chairs the external oversight board of the International Water Security network
- Hear more from Patric at WWT's Water Industry Technology Innovation conference in Birmingham on December 1st. Details at wwt-innovation.net
by James Brockett
When Bristol was awarded the status of European Green Capital for 2015 by the European Commission, it was both recognition of the environmental work already going on in the city, and a challenge for businesses and organisations across multiple sectors to raise these efforts to a new level. It was also third time lucky for the bidding team – with Bristol losing out to Nantes in 2013 and Copenhagen in 2014 – and so the city's authorities were well-prepared and well positioned to do exactly that.
With water playing a vital part of any city's environment, Patric Bulmer of Bristol Water was a key player in presenting Bristol's bid to Brussels and has chaired the Green Capital Water Group responsible for delivering associated initiatives in the water sphere. He said that while the status of Green Capital did not come with a pot of money, it has provided a valuable impetus for all the city's stakeholders to work together on environmental initiatives, and for businesses in particular to come on board.
"What it does is highlight the sustainability agenda across a much broader platform than would previously have been the case," says Bulmer. "Suddenly, you get businesses who think, 'we really must be involved in that', and that's quite encouraging to see. For example, we've got a large number of law companies in Bristol, and some of them have offered to provide pro bono legal advice to projects, as a way of demonstrating their own responsibility. That's just an example of one sector and there are plenty of others – there's been a real grass roots response."
The centrepiece initiative from the water group's perspective has been a special drinking fountain in Bristol's Millennium Square. Adorned with art from a local artist, the fountain is fitted with continuous high-frequency logging technology and camera surveillance to gather data about its use; this is being linked with waste initiatives, with the aim of achieving a quantifiable reduction in plastic bottle use in the area. The fountain is also fitted with a small hydropower unit, generating a small amount of electricity from the mains flow, which both showcases a useful technology and provides educational benefits for the public.
"In many cities across the UK drinking fountains have been taken out because they are regarded as something of a problem, rather than a city asset," says Bulmer. "And it's true that there are snags and difficulties associated with getting a drinking water fountain into a public place. But there is also very little evidence available on the actual social benefit of doing it. The fountain has given something like 50,000 drinks this year - if one in five of those would have been a plastic bottle, then that's 10,000 plastic bottles that don't end up in watercourses or taking up space in bins."
A supporting initiative is 'Refill Bristol' where restaurants, or any outlet where food and drink are sold, have agreed to display a sticker inviting the public to come in and refill their water bottle free of charge. With over 100 businesses in Bristol signed up so far, this can provide similar benefits to drinking fountains without requiring extra investment in infrastructure.
Another project which is using technology to show how water consumption can be reduced is Bristol Water's research tie-up with the University of the West of England using smart meters in Frenchay Student Village. The student accommodation has provided the perfect test environment for water-reducing initiatives through the year, producing reams of helpful data, explains Bulmer.
"The four buildings are exactly the same, with five or six hundred people in each building. We've installed water efficient shower heads in one block, flow reducing devices on taps in another, and done engagement programmes in another, while leaving one as a control. All this is starting to build up a much more robust evidence base about what measures make a difference."
"We have an absolute flood of data coming in from that, because it's 15-minute data from dozens of water meters for a year and half - that's a lot of data points. We have some pHD students working on that to start to unravel where the significant changes actually occur - which of them are just 'noise' and which you might be able to replicate. The importance of this will simply grow with time, because as you turn from a million or so data points to ten million, fifty million, that becomes progressively more significant."
The Green Capital banner has also allowed Bristol Water to promote initiatives around biodiversity. Its 'Spawn to be Wild' programme has used captured eels in tanks to educate schoolchildren about the value of the creatures and biodiversity in water environments; it has also supported a hedgelaying championships at Chew Valley Lake, one of the area's most important water resources.
Biodiversity is a field in which the company has been particularly forward-thinking, creating its own 'biodiversity index' for measuring the environmental impacts of its work, a valuable tool when working towards the requirements of the Water Framework Directive.
"One of the strong bits of feedback from our engagement forum for PR14 was that customers said they wanted us to start thinking about what we could do to help biodiversity in a cost beneficial way," explains Bulmer. "That's why we thought we needed to find a way of quantifying how good our sites are at the moment, which gives us a basis for coming up with plans for how we improve that. It's a principle that we are going to be applying throughout our whole AMP6 investment programme, that when we do work we leave a positive biodiversity footprint. If there's any negative impact from a scheme, we have to quantify that impact, and find a way of mitigating or offsetting it elsewhere."
Catchment management initiatives remain a focus for Bulmer and his colleagues in AMP6. Key challenges include working with farmers to eliminate metaldehyde – a pesticide used to control slugs which is particularly difficult to deal with in the treatment works – and controlling a number of nutrients which have led to issues with algal blooms in surface water sources in the Mendip Lakes.
Environmental aims are extremely prominent in the company's business plan, and Bulmer, who was Bristol Water's first Environment Manager when the role was created eight years ago, says the nature of environmental protection work has changed immeasurably over the years.
"It's great to see the professionalising of environmental issues - not in the context of making it all grey and homogenous and businesslike, but in the practical sense of thinking about the things you have to deliver and setting about doing them," he says. "It now feels a lot more like 'working for' the environment rather than the 1970s or 1980s version of 'campaigning against' something."
He is confident that Bristol's year as European Green Capital will leave a lasting legacy of collaboration on green issues.
"It's changed the feel of the city, to one where the expectation within Bristol is that we will be outstanding for environmental protection. It's something that you only really start to understand when you go somewhere else and realise that they are not doing what we are doing yet: whether that is attitudes towards cycling, towards recycling, sustainable energy, local sourcing of food, or biodiversity. Once you set off in that positive direction it builds a momentum of its own."
- Patric Bulmer is speaking at WWT's Innovation conference, December 1st, in Birmingham. Details: wwt-innovation.net