Interview: Dr Paul Linford, CTO, Syrinix
"It's always 'on to the next thing'… that's what makes engineers tick."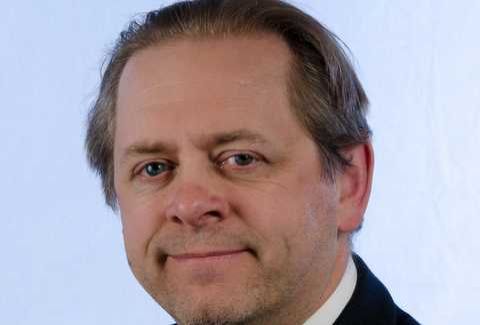 Path to the Top
1985
Paul Linford graduated from the University of Essex with a BSc in Electronic Engineering. He began work in the defence sector, designing electronic sub-systems for military communications equipment
1988
He then moved into university research, spending eight years as a senior research associate at the University of East Anglia, and completing his pHD in Signal Processing
1999
Won funding from the Water Infrastructure and Treatment Engineering (WITE) programme for a project on pipeline monitoring and leak detection. Researchers from three universities were involved in the project in a consortium, with Anglian Water acting as industry partner
2004
After the project finished and Thames Water showed an interest in developing the technology,
Linford founded Syrinix as a commercial entity
2010
After James Dunning joined the business as CEO, Linford became Chief Technical Officer
by James Brockett
One of the key ways in which technology can help the water industry step up to a higher level of efficiency is to bring about the operation of genuinely 'smart' networks, in which data from across a network is collected, analysed and acted upon to enable the proactive management of assets.
One industry professional who is playing his part in making this a reality is Dr Paul Linford, Chief Technical Officer and founder of Syrinix, who last month celebrated receiving the prize of Engineer of the Year at the Water Industry Achievement Awards, co-organised by WWT.
Best known for its Trunkminder technology, which uses a 4-dimensional sensor array to provide risk management and detect leaks on trunk mains, Syrinix has in the last two years developed two further products: Transientminder, which detects and tracks damaging pressure spikes within pipeline networks, and BurstMinder, which incorporates flow monitoring capability to give immediate notification of bursts.
The recent product innovation has marked a new phase of development for the company, which Linford formed as a spin-out from the University of East Anglia in 2004. While TrunkMinder emerged directly from university research – and a subsequent two-year development tie-up with Thames Water – its newer products have sprung from wider engagement with the industry about smart water, as Linford explains.
"TrunkMinder was a classic story of academic work, followed by more directed development, followed by a commercial organisation," he says. "TransientMinder and Burstminder are completely different – they have come from the conferences and workshops we have done on smart water and in response to an issue that was developing in the industry."
Pumping and transients
While there has long been an awareness of the role of transients in bursts and leakage, the reason the subject kept arising in discussions with the utilities was because of changes in the way pumps are being used, Linford says.
"There has been a big push in recent years to manage pumping requirements via predictive models, to improve your carbon footprint and energy bills. The corollary of doing that is that you are tending to turn the pumps on and off a lot. That causes transients, which can then cause water discolouration events, quality issues, bursts, and so on. A lot of the people we were talking to at the time were using Trunkminder data - because it's sampled at such a high rate - to do transient analysis, because they were worried about transients and not being able to track them. That's the genesis of Transientminder."
Having recently celebrated its ten-year anniversary, and led by CEO James Dunning since 2010, Norwich-based Syrinix is now reaping the fruits of success. As well as providing real-time information to the likes of Thames Water, Anglian Water and Welsh Water, the company is expanding overseas with its products being used in the USA, Australia, the UAE and Mexico. However, Linford says that while all water companies think of themselves as innovative, the reality is often different, and some are far from ready to embrace 'smart water'.
"There's such a wide spread from company to company," he says. "If you speak to company X, they are very firmly in the 21st century, doing proactive analysis, looking at running their assets harder, doing everything which constitutes what we would call smart water; and then you go to another company and it's like stepping back 30 years. You find that rather than just promoting a product, you are actually showing them the ROI on an idea which they've not really been able to put together in their heads yet."
He acknowledges that water companies can feel that they are facing a "tsunami of data" as more and more sensing technology is installed in the network. However, the company's philosophy is for event-driven solutions – reporting exceptional events and findings – with the required number crunching done by its RADAR web portal, which generates messages and alarms for the user.
From academic to commercial
In giving Linford his award, the panel of Water Industry Achievement Awards judges said that they had been impressed by the way Linford had transferred from academic research to commercial engineering solutions. So did this require a significant shift in mindset?
"Well, I was never a terribly good academic," he laughs. "One thing academics do is tease a problem to bits, and then write about it for the next year and a half to get their paper count up, because that's one of the metrics that universities judge you by. But for me, I've always taken the attitude of 'on to the next thing'."
He observes that the original research which led to TrunkMinder – which was conducted by a consortium of universities including UEA - was not given a high rating by the Engineering and Physical Sciences Research Council, despite its obvious commercial potential.
"When it came to the EPSRC's assessment of the research, it got a very low score - because from the university's point of view it wasn't research, it was development. It shows that you have to be very cautious about the metric you use for success. As we developed the products within Syrinix, we've always been looking at not only what makes us excited, but what the industry's looking for."
The status of engineering skills
As a former educator, Linford says that he remains concerned about the relatively low number of young people entering engineering in the UK, and the country's ability to hold on to its brightest and best in the sector. He points out that in countries such as the USA, Germany and Singapore, engineers enjoy much higher status and rewards.
"I think we still have a problem in the UK in that engineering as a profession does not have the kind of status it really should have in society. When you look at the educational qualifications of a professional engineer, who has got a degree, a pHD and chartered status, it's very similar to lawyers, solicitors or dentists, whereas the financial packages that come with engineering in this country are not great. I'm not suggesting we double the salary of every engineer in the country, but the whole world we live in is engineered, and I think more recognition would help a lot."
In the near future, Syrinix will look to develop more products which use the TransientMinder software platform to plot and report other events in the network. Branching out to other sectors is possible – the firm has a development contract with National Grid Gas – while Linford says that the prospect of helping to address water challenges in developing countries is also an exciting one for him.
A global funding round in 2013 injected £2.1M of fresh investment into the business, including significant backing from the EU-funded Low Carbon Innovation Fund. This has underpinned Syrinix's global expansion, and further research and development; with smart networks and smart technology on the lips of many in the sector, the future looks bright.
"We've come so far in ten years, and now it's accelerating. We would like to see Syrinix's products doing good in as many water markets as we can get them. In Brazil or Mexico for example, they have some very big challenges and if we can in our small way contribute to solving them, and make Syrinix a known brand in the process, then that's what makes me kind of excited. It's just looking for the next interesting thing to do, the next difficult problem and how you can solve it - that's what makes engineers tick."