Interview: Alan Munro, Thames Water Commercial Services
"The biggest challenge really is a lack of awareness in the market. I think every licensed provider now has a responsibility to raise that awareness." Alan Munro, Thames Water Commercial Services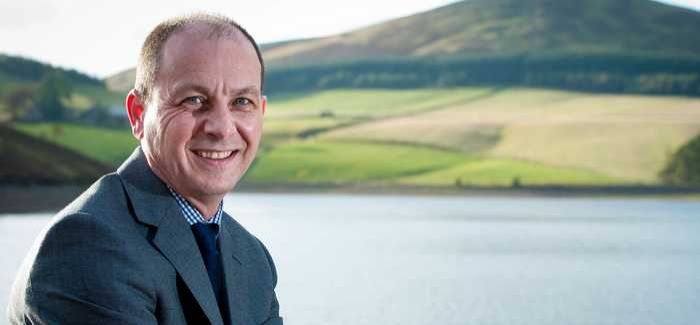 Alan Munro: CV
January 2014-
Thames Water
Commercial Services
Sales Manager, Scotland
2011 – 2013
Bupa
Area Sales Manager
2011
Chubb Fire & Security
Regional Sales Manager
2009-2010
KONE
Regional Sales Manager, Scotland
2006-2009
GE Capital Equipment Services
Regional Sales Manager
2004-2006
Saint-Gobain Pipelines
Regional Sales Manager
2002-2004
Commercial Ceiling
Factors
Sales and Operations Manager
1989-2002
Hilti
Various positions held, including MOD Business Development Manager, Regional Sales Manager, and National Account Manager
When Scotland opened its water retail market for competition in 2008, it was something of a pioneer: with 130,000 non-household customers able to choose their water and wastewater supplier for the first time, it was the first water market of its kind in the world. Now that England is set to adopt a similar model from 2017, it's little surprise that many of the country's water companies are casting their eyes north of the border to see what has been learned from the Scottish experience.
It's that context which makes the fortunes of Thames Water Commercial Services (TWCS), which has just brought up a year of operation in Scotland, an interesting test case.
Could a company whose name is synonymous with the south of England make meaningful inroads into a market at the other end of the UK, where Scottish Water subsidiary Business Stream holds a dominant position?
So far, the firm has made steady progress, with 600 Scottish sites on its books, spanning finance, retail, leisure, education and commercial sectors. Of course, this represents a relatively small slice of the £330M market in Scotland, but Alan Munro, who heads TWCS's Scottish operation from its office in Edinburgh, believes it can double its customer base again in the next 12 months.
"It's been a very successful year," Munro says. "Part of our plan for the year was making sure we grew our internal ability to serve customers, in terms of systems and people. We are not using a lot of Thames Water systems. Of course, we've got that expertise within the business, which we can call on as and when we require it - but at a cost, because it's a regulated side of the business. We are effectively working as a start-up business in Scotland."
Munro knows that persuading businesses to switch to TWCS requires more than simply competitive pricing: his pitch is all about adding value to the client, whether that is through tailored and responsive customer service, accurate billing at the frequency the customer wants it, expert advice on metering and consumption, and so on. It's an offering that might have been compromised if the business had tried to ramp up sales too quickly, he says.
Tailored solutions
"There's a lot of small things we can do to add real value to a business, rather than just saying we want to come in and talk to you and save 5-10% off your retail costs - that's the easy part to do," says Munro. "The hard part is making that customer 'sticky' so that he wants to be with us for the long term. We don't want to lose customers, and today – touch wood - we haven't done that, we've got 100% retention. But it was a risk that if we had grown too quickly, we wouldn't have had the systems, the people and processes in place to deliver that service. So we're pretty pleased with where we are and we think we've got a pretty good platform to launch into the next phase."
Nevertheless, there is a long way to go before TWCS will be able to challenge Business Stream, which holds over 95% of the Scottish market, on a significant scale. Does Munro feel that it is a level playing field?
"When Business Stream came into the market as an incumbent they had 100% of the customers, so it's difficult to say how level that playing field is," he replies. "Some customers have the perception that the relationship they have with Business Stream aids their relationship with Scottish Water. The reality is that that is just perception – the licensed providers are treated fairly and equally - so we have no issue with that.
"The biggest challenge really is lack of awareness in the market. I think every licensed provider now has a responsibility to raise that awareness, and demonstrate to Scottish businesses how they can add value, support them and help them grow. Although the economy's in recovery, a lot of these businesses, especially SMEs, are still under financial pressure. They have been busy stripping costs from their supply chain over the last few years, but the utilities part of it maybe has been an oversight - particularly water. I don't think that they have realised that there are potential savings to be made in it and that potential savings can be reinvested in the business. Now that the market is open, we obviously have an opportunity to raise that awareness."
It is not just on the cost of water that greater awareness is required, according to Munro. The majority of businesses have no water management strategy – whether it is a simple matter of encouraging employees to use less water, or a more complex plan for optimising water use across industrial sites – and this is an area where he believes TWCS can help. For example, The company recently visited BSkyB's offices in Dunfermline and Livingston to talk to staff about water use as part of its sustainability efforts.
Smarter metering systems have been hailed by many as the key to building awareness of water use, but Munro remains relatively neutral about the roll-out of Automatic Meter Read (AMR) systems in Scotland.
"I think in some cases people put AMR in not fully understanding its capability, and whether it will actually give you return on investment. On many occasions it will, and it will allow you to truly manage your water, but it all depends on the size of site and how that client manages the site: AMR may be something that a client doesn't necessarily need. Maybe if you spoke to an AMR provider they would tell a slightly different story, but from our point of view, we are looking to tailor-make solutions and ultimately the customer's going to look at the effect on the water retail element of the bill."
Originally from Clackmannanshire, Munro began his career as an electrical engineer, before moving into construction sales. When the construction industry was hit by the downturn, he spent several years in more diversified sales roles, before joining TWCS in January, attracted by the challenge of leading its Scottish office. He says that his key strength is account management, listening and understanding customer needs, and it's a culture he is looking to instil across his team.
Powerful brand
But in a year which saw a Scotland narrowly reject independence in a referendum, has representing a brand which is based in Southern England been a barrier to breaking through in the local market?
"It hasn't caused us any problems at all," answers Munro. "The brand is obviously a very well recognised and powerful one, with a lot of heritage and expertise behind it. The fact that we have invested in Scotland, the fact that we have our office here and have boots on the ground in Scotland, I think that offsets any perception that customers might have that Thames are coming to Scotland without reinvesting in the Scottish economy."
And as England prepares to open its retail market in 2017, he thinks the approach TWCS is pursuing in Scotland should be equally valid in south of the border.
"I think the key lessons that we take so far from Scotland is that there's an opportunity to listen to what your customers' needs are and tailor your solutions to the customer. At the end of the day the customer still gets the same water through their taps, so it's about how good we are at providing those services, support, and helping them meet their business objectives.
"There's nothing that different in Scotland from what happens elsewhere, but it's about delivering now that the customers have choice. These things should be a given anyway – the need to deliver excellent customer service - but the fact that the customer has a choice, means you really have to be on the ball and make sure that you do it."