Getting to Grips with... harmonic distortion
Harmonic distortion can be difficult to diagnose, but once found, it is relatively easy to remedy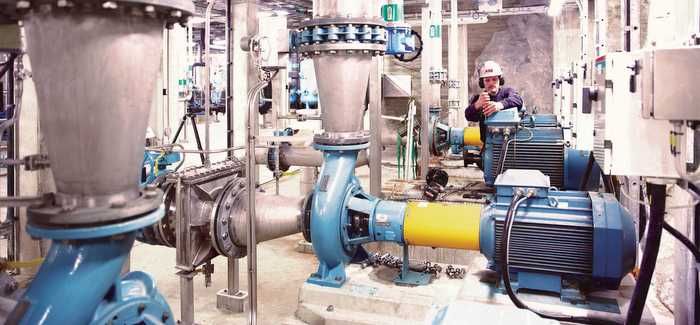 Keeping the damaging effects of harmonics in check should be a priority for water utilities
by Stuart Foster, Water Industry Manager, Drives & Controls, ABB
Harmonic distortion is a common problem in the water industry, and one that is becoming more prevalent. While harmonic distortion itself does not cause problems, its symptoms do. These range from overheating motors to recurring problems with lighting and equipment. 
With the advent of Ofwat's Asset Management Period 6 (AMP6), water companies are being encouraged to re-focus attention away from the traditional capital and operating expenditure (capex/opex) spending models towards a total expenditure, or TOTEX, approach, one that emphasises controlling operational and maintenance costs. Because of this, keeping harmonics and their damaging effects in check should be a priority for water companies.
What is harmonic distortion?
Harmonic distortion is a type of electrical interference caused by non-linear loads on the network. A harmonic current or voltage is one with a frequency that is several times that of the basic supply frequency of 50 Hz. As an example, a 250 Hz current on a 50 Hz network is five times the basic frequency and so would be classed as the fifth harmonic.
Harmonic currents are caused by loads such as capacitors and power electronic circuits. In these loads, the current through them does not vary in simple proportion to the voltage across them – they are therefore said to be non-linear. All electronic power supplies from computer power supplies, fluorescent lights and welding supplies, as well as both AC and DC drives, will give rise to harmonic currents. These are then passed to the supply network.
What problems do harmonics cause?
The energy in harmonic currents cannot be used by devices on the network and so it is simply turned into heat. This can cause all sorts of problems. Cables may overheat, damaging their insulation. Motors can overheat too or become noisy, while oscillation in the rotor can lead to mechanical damage. Lights can flicker while meters can produce false readings.
What makes harmonics particularly challenging is that while all of these symptoms can be caused by harmonic distortion, they can be caused by a number of other problems as well. This means by the time harmonic distortion is confirmed, significant amounts of time and money may have already been spent on treating other suspected causes.
What industries are affected by harmonics?
Harmonic distortion can occur anywhere but certain industries are more susceptible to it. Water facilities can be particularly affected, as many sites are in rural locations with weak networks that are especially vulnerable to harmonics. This means that for the water industry, harmonics can be a major factor in increasing maintenance bills.
Why are we hearing about this now?
While harmonic distortion is nothing new, it is becoming more prevalent within the water industry. This is in part due to the growing use of AC drives, which are used to improve productivity and reduce energy consumption.
The arrival of AMP6 means water companies must re-examine every aspect of their operations to ensure systems run as efficiently as possible. This includes tackling existing or suspected cases of harmonic distortion.
Harmonic distortion may or may not create a problem. It is possible to have harmonics present but experience no adverse effects. However, as harmonic levels increase, the likelihood of experiencing problems also increases.
What can be done to mitigate harmonic distortion?
The good news is that although harmonic distortion can be difficult to diagnose, it is relatively easy to fix. As already outlined, drives are one of several types of non-linear equipment that can create harmonics. However, what is not widely known is that they also provide the remedy.
There are three basic ways to rectify harmonics: reduction, diversion or cancellation.
Reduction is achieved by adding inductance or an active rectifier. The most basic technique is to use AC line reactors, usually known as chokes, fitted inside or outside the drive. With a correctly sized AC/DC choke in an ordinary six-pulse drive, harmonics levels can be substantially reduced. The objective is to reduce harmonics to a level where they no longer cause a problem.
Diversion involves using a passive filter to divert harmonics away from the affected equipment. This method has few application areas as well as several drawbacks. For instance, it increases voltage and heat loss and reduces power factor.
Cancellation has previously been achieved by using a 12- or 24-pulse drive. The total harmonic load is divided between several isolated sources sharing a common primary supply via an input transformer. This method is now only used if the required transformers are already on site.
A more modern approach to cancellation is to use either a low harmonic variable-speed drive (VSD) or a closed loop active filter. A low harmonic VSD cancels the harmonics within the VSD itself. A closed loop active filter injects an 'anti' harmonic that reduces harmonic current to zero.
Is it possible to prevent harmonics from occurring in the first place?
With the occurrence of harmonic distortion set to rise, water companies are increasingly taking steps to keep harmonic distortion within legal limits.
Examples include Southern Water, which installed a combination of 90 low harmonic and 6-pulse drives at a new wastewater treatment plant in Sussex to minimise the harmonics that would be produced by the large motors employed in the pumping stations.
But it's not only new sites that are at risk. Water companies also need to take appropriate steps to ensure harmonics stay within legal limits when installing new equipment at an existing site.
In the case of VSDs, there is reason to be extra careful, as an individual site can have many of these installed. When adding further drives at a site, the total harmonic load should always be considered.
What is the legal position regarding harmonic distortion?
The maximum level of harmonic distortion allowed on the electricity network is controlled by Engineering Recommendation G5/4-1. Don't be misled by the word 'recommendations', however. G5/4 is a legal requirement that all electricity users must comply with. New installations that are not compliant can be refused permission to connect to the network.
What's the next step?
Whether you think you might have a harmonics problem, or you want to take action to avoid a problem from occurring, speak to your drives' manufacturer about a harmonic survey. An engineer will visit your site and install monitoring equipment. The gathered data will be analysed to determine the level of harmonic distortion at the site. If necessary, your vendor can discuss solutions to mitigate existing problems, or recommend steps to safeguard against a problem occurring in the future.
comments powered by

Disqus